Articles
This page contains a series of articles or other long posts. The page will usually contain more theoretical information which can act as a catalyst for your own actions, to spur you on to try out dowsing or druidry, and to record our progress in the development of ideas related to these and any other relevant subjects.
Much of the information will be from we bloggers ourselves, but we may pull in texts from other authors to cross-reference,validate or repudiate our findings.
The following header section lists and describes the articles posted here to date:
******************************************************************
---
Earthing: bringing the body into balance
As the Summer arrives, as a practising druid I like to get back in touch with the Earth – literally. I begin to feel the urge to go barefoot, touching the earth more regularly with my bare feet. When I do so, it only take a few minutes of contact and I feel better. Why is this?
Through a combination of increasing electro-magnetic charge all around us, and our 'disconnected' cycles of home – car – workplace – car – home, there can be extended periods where we have no direct connection with the forces of Nature. In recent years the buildup of electrical, magnetic and electro-magnetic fields has risen alongside reports of an increasing "workload", incumbent stresses and a profusion of confusion. This "rising tension", "invisible fog", "creeping lethargy" – these are some of the descriptions I hear concerning the phenomenon of increased exposure to un-earthed electro-magnetic charge.
Our bodies have their own natural charge and pulse – a subtle energy field which surrounds us, and which many call an "aura". This field is naturally tuned at Extremely Low Frequency (ELF) to synchronise with the pulse of the planet, and with the movements of the Sun and Moon. We are tuned to stabilise at a frequency of 10 Hertz, a pulse which is present in the rhythms of the planet as the Schumann Resonance.
The pineal gland in the brain controls the production of the hormone melatonin which is used to modulate sleep patterns in relation to both daily (circadian) and seasonal rhythms. As our body is tuned to a fine degree to maintain a delicate balance in chemistry and charge, only tiny changes are required to affect our sleep, our attention and our stress levels.
"Several research groups have shown that applying a magnetic field of half a gauss or less, oriented so as to add or subtract from the earth's normal field, will increase or decrease production of pineal melatonin or serotonin." (p.249 The Body Electric – Becker and Selden)
So how can we naturally and easily recover our snchronisation, our flow? We have to re-balance the difference in electrical potential – to 'earth' ourselves in every sense.
The Build-Up of Charge
Earthing in the electrical sense means to use the natural properties of the ground beneath our feet to allow surplus charge to be taken away, thus avoiding a dangerous build-up – a "body shock", if you will. In our daily lives we rarely encounter situations where a sudden influx of charge happens (perhaps a thunderstorm building, a blazing row, or a solar flare). Instead we gradually build up an electrical charge which clings to us like an invisible layer of dust through everyday interactions with people, places and the atmosphere of them.
The strength of the pulse, the amplitude of the waveform, swings us back and forth between "highs" and "lows", positives and negatives. Each time we encounter more sources of charge we either add to our existing difference, or switch polarity to the opposite type, and our bodies and minds try to adjust to this new "stress". We may view this as "normal" over time, but sometimes, when we have had a time away from these build-up (a holiday by the sea , perhaps) our charge levels get dissipated and we return to a more balanced and happy state of being. That's all very well, but we can't be on holiday every day! So how can we integrate something similar into our daily lives to achieve the same effects?
"The human species has changed its electromagnetic background more than any other aspect of the environment. For example, the density of radio waves around us is now 100 million or 200 million times the natural level reaching us from the sun." (p.275 The Body Electric – Becker and Selden)
These "swings", this "stress" reveals to us that we are out of sync with the natural rhythms of Nature. It can lead to bad luck and ill health over time as the polarities battle to move out thoughts and our body chemistry this way and that, and we begin to react strongly to external forces like news, opinion and events. We are physically, mentally and spiritually exhausted by the contrary forces acting upon us. By earthing we are getting back to a centredness, a still point, a stable axis. By dis-charging our energy field we bring ourselves back to a balanced point of view, a safe confident place of knowing. Our responses become measured, thoughtful, mindful, purposeful.
Easy Ways of Earthing
The solution to bring us back into synchronisation with our own natural rhythms and the pulse of the planet are amazingly simple. They are things that we once used to do all the time, but have been led away from by our increasing civilisation. They are simple, quick and effective, and you already know them! You perhaps just haven't allowed yourself to do them?
Touching the earth
· putting our hands in soil, walking barefoot through a meadow, or on a beach
· sitting on rocks on a hill or mountain
Dis-charging in water
· breathing in the ionised salty air of the seaside, paddling in the sea or a rock pool
· going for a swim in a lake, or sitting in a place where water flows over rocks
Meditating and relaxing outdoors
· slowly bringing the mind back to a point of centredness and stability
· stilling the mind to feel the connection with the world around you
Taking the opportunity to do some simple acts of re-connection using the power and the pulse of Nature can bring our body and mind back to a point of centredness, calmness and ultimately bring it back to its natural state of wellness. It's a cure that is drug free, pain free and stress free, but it does involve the effort of going out to do it!
Chris McDermott – July 2015
******************************************************************

The Nine Doctrines of Natural Magick
I was made aware of an article recently that nearly passed me by. I'm glad it didn't Literally once a year or maybe less I get to read an article that contains such interesting information that it makes me want to blog about it.
The article in question was written by a practising "wizard", and the publishers felt the need to preface the article with a strong statement explaining this explicitly. We energy workers are still on the threshold of acceptability, aren't we? It got posted on the James Randi "Education" forum too and the flames went skyward! Anyway, I didn't hold out much hope for the article myself, having read many similar articles.
This one was quite different. As I read it I thought to myself – "This matches my own magickal rules almost exactly!" I was stunned. The rules that Kal and I have often discussed have been built not from inauthentic knowledge, but from personal experience.
The article expresses the rules as "doctrines". Ok, if you must. It may appear to add gravitas in the way that wizards often seem to need, yet that gloss is unnecessary – the statements stand up for themselves. I decided to re-publish these doctrines, but expressed through the eyes of a druid and natural magician, rather than a wizard.
Let me see if I can summarise the main points:-
The first doctrine is that there is no purpose in debating with skeptics and non-believers.
The second doctrine is the power of 9.   The 9th occurrence of a thing is the purest or the least pure. (cf. The Ninth Wave)
The third doctrine is the necessity of shielding the self.
The fourth doctrine is the doing of necessities and the leaving alone of every other thing. The Power and the Burden is not a toy.
The fifth doctrine is that inhabitation is actually very common. i.e. we are frequently encountering and allowing entities to enter our auras.
The sixth doctrine is that Good and Evil operate as inverse propositions. Therefore, if one proposes the elimination of an opponent or rival, the other proposes the transformation of the opponent or rival into a friend and ally.
The seventh doctrine is that the esoteric tradition is correct and that all specific faiths are limited. Our senses are too limited, our minds too small, and our hearts too selfish to even begin to know the why and how of things.
The eighth doctrine is that the distance between wizard and philosopher is undetectable.
The ninth doctrine is that knowledge is useless in the absence of application. All magick must have a practical purpose and be demonstrably effective.
How many of these do I agree with? All of them! Seems like I have learned a lot in the few years I have been working in this world. Let me add a few comments on those doctrines.
Doctrine 1: No point debating sceptics
Kal often gets into debates with people online, discussing his experiences with people who have never experienced anything remotely akin to what he has, and indeed see it as anathema and folly to even attempt to do so. For years I've been counselling him that it serves no energetic purpose to waste time and energy on these fruitless debates. People will come over when their time is right. Until then, leave them alone and hope that they pay you the same courtesy. A core tenet of Hedge Druidry, I feel.
Doctrine 2: The Power of Nine
If number is an expression of a natural implicate order then is one order more important than any other? Consider it like a sequence of inter-weaving waveforms. All are expressions of mathematics, yet when two waveforms combine to form a peak they produce a form that is sympathetic – purer and stronger. That is the image I have of the number nine. It is one of those numbers whose expressions in Nature seem purer and stronger than expressions of other numbers – certainly as interacted with by us humans.
Doctrine 3: The Necessity of Shielding the Self
I never used to consider that shielding was important until I began to encounter energy-depleting forces. These vampiric fields, some of which are entities in their own right, can deplete your subtle energy resources to nothing leaving you vulnerable and impotent in the magickal sphere. The necessity of shielding oneself from such depletion is now built into my own energy work as a matter of routine, and is considered now to be the first priority when setting myself up for any form of work, especially if I am going into something blind, without prior knowledge of what I will be working with.
Doctrine 4: Only do what's necessary
This is both a form of magickal economy (only using the energy that you need to use in order to be effective) and a warning against being profligate and extravagant with subtle energy. There are many times when it is very very tempting to utilise and manipulate either your own or someone else's energy in order to exact revenge, see that someone gets their 'just desserts' or simply to impress someone who may have challenged your efficacy, possibly in a very public way. The answer is simple – resist the temptation.
It IS possible to utilise energy in any way you see fit. Yet, the dividing line between the druid and the wizard, between the gracious and the selfish, between the graceful and the gross use of magick – these are dividing lines of willpower, of morality and of an inner strength. These are the very things that define our spiritual paths, so why not restrict your subtle energy work to making progress along that path?
This is not a game, and whenever I have treated the work as though it were, it has right royally bitten my behind and made me look foolish and incompetent. I have learned my lessons.
Doctrine 5: Inhabitation is very common
'Inhabitation' is the word used in the original article to mean 'having an energetic entity attached to one's aura', or 'being possessed' or under the influence of an entity. This concept is linked with the point above about shielding, the number of energetic entities out there in the world is unknowable. In some places they are legion, in others there is virtually nothing, but unless you're really switched on to these things you generally blunder into places without any awareness of their energetic content and who or what is in a place until you purposefully investigate.
Therefore, there is a high likelihood that you and those you encounter will have some form of energetic association that is linked to them – either directly inhabiting someone's energy field, or remotely linked to them by an energetic 'tether' – a sort of thread of awareness. It is a wise energy worker who considers this possibility when meeting people for the first time.
Doctrine 6: Opposite poles operate as inverse propositions
As a druid I work with the principle of balance. For me, the dynamism with the world is created by the interplay between the spiralling male and female along the straight pathway of the neutral. Yet, the fastest, most effective route is the one that flows closely around the neutral pathway, forming a tight spin. When one gets out to the extremities of either end of the spectrum – at the extreme poles of male or female – one is moving away from the ideal position and progress becomes more erratic, and requires more energy to sustain forward momentum.
As one force extends to its extremities one needs to apply the same proportion of the opposing force in order to maintain a balance of forces. With a principle of balance no judgement is made as to the morality of either pole. Both extremities are moving away from the optimal position of the centre, and so the application of a smack to a pious fool is as useful as a kiss for a truant.
Doctrine 7: All specific faiths are limited
One of the attractions of the druidic path is the lack of 'rules', the lack of dogma, and the idea that each person finds their own path within the wisdom and mystery tradition whose stories resonate with us personally and one the level of the archetypal simultaneously.
Our minds are so limited in scope – limited to the body for the most part, limited to the senses, limited in the ability to bind to transcendent thought, limited to this Earth, this Nature. Of course we can dream beyond, but in practical, useful, beneficial terms we are best served by the search for comprehension, gnosis and wisdom from our own experiences.
Only in the pursuit of our purpose are we unlimited by the druidic way. Religions are consequently and inherently limiting. The transcendence they seek for the spiritual seeker is that which is beyond experience – in a world beyond this life. The druid seeks to bring the wisdom back to the world, not use it to escape the limitations of the body and mind.
Doctrine 8: The distance between wizard and philosopher is undetectable
Working with Nature's energies is the natural magick. Considering  discovering, making use of these forces – learning its ways d the ways it works with us – these are the works of the natural philosopher. Bringing the miraculous out on show, making wonder part of a happening in the world for those who witness it – these are the works of the wizard, the druid, the energy worker, the natural magician. The two are not separate, only catalogued as being so.
Doctrine 9: Knowledge is useless in the absence of application
One of the most powerful aspects of druidry is that it is firmly planted in the practical. This works both as a pragmatic and experiential approach to magick, and as a way of making a difference in the world around, in Nature particularly. The magick either works to make such a difference in the world, or it is discarded as impotent and unimportant.
That which can be integrated into the druid is that which is carried with him or her out into Nature in order to be reflected back for the expansion of good work and benefit, for the ever-increasing goal of complexity and greater integrity and integration.
And as though to demonstrate the power of nine, there are the nine "doctrines".
Gwas.
******************************************************************
The Triad of Life – Awen, Flow and Abundance
As druids how do we understand concepts such as ritual, offerings and gifts? What IS the nature of our interaction with Nature? To what purpose do we strive to live ethically and energetically? In this short post I hope to propose the concept of a Triad of Life – three powers that work together in harmony – that will go towards answering these questions.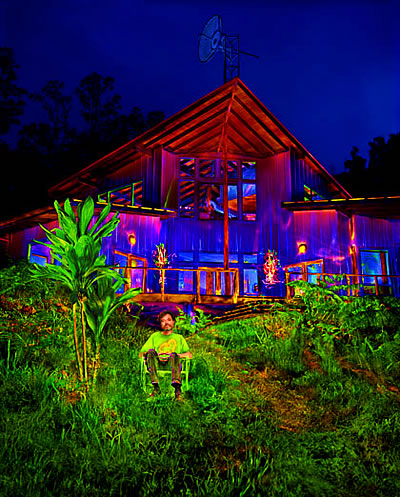 To do this I employ some of the ideas and discoveries of the psychedelic guru Terence McKenna. McKenna was an explorer of the psychic space beyond the three-dimensional structures. To aid his exploration he employed entheogens – plants that naturally facilitate journeying much as shamans in most cultures employ such techniques. In order to better understand the following concepts that I am about to discuss I would recommend that you are at least familiar with some of McKenna's work and ideas. Please go here for an excellent archive of much of McKenna's audio/visual talks.
Firstly, let's talk about Flow. In my opinion Druidry is an attempt to align oneself with and add one's energies to The Flow of the UniverseTo join with the flow of the universe is to follow a natural progression in tune with Nature's own direction of development. Religion has called this concept "following the divine will", but then has proceeded to make it a law, rather than a useful option for personal and communal progress. – the natural course of all intention from the grandest to the smallest possible level. This is the same notion as the Observer Effect – or the idea that all of our actions, no matter how small, have a consequence and an influence. However, what is important to followers of the druid path is that those actions be in harmony with the Great Motion of the progression of the Universe, or of God, towards its eventual fulfilment or culmination point – what McKenna would call the Omega Point of Transcendence.
The concept of flow encapsulated in Bruce Lee's memorable phrase "Be like water" contains within it the idea that this natural path is one of least resistance – a path through the landscape where the least perturbation to the natural cycles is found. I see in this concept the kernel of the ecological and ethical moments that are fundamental to the druidic ethos. That is not to say that influences cannot be profound – they certainly can – but the starting point is always to be in harmony with the force that is currently in "flow". In other words, if the change required is great and natural, then the influence intended by the druid in his work should be one that equals or harmonises with this momentum. That is how one stays in accordance with The Flow – by becoming the ripple or the tidal wave depending upon the environmental conditions generated by Nature herself.
What is it that is "flowing"? Yes, it is all of the physical elements that go to make up the Universe, but when we consider that these physical elements are really just low-density vibrations, then what is the rest of it that is carried along or upon which we are carried along? Is it not some subtle energyA form of energy that has so far eluded scientific definition. It is neither electric, magenetic, nor electro-magnetic, so far as our current technical equipment can measure. It does, however, exhibit many of the characteristics of magnetism and electricity in terms of its effects and properties. It may be a form of either or both of those energies that we have not yet identified. form that we can perceive but cannot pin down? Is it not the energy that we can feel but cannot substantiate? And is that not the Awen of ancient mythology and modern re-interpretation? [see here for an alternative explanation of Awen, and here for the traditional explanation]. It is Animus and Anima at play together, the male and female forces whose spiral dance motivates the interchange of subtle and gross energies between all things. It is the elusive subtle energy or life force that is sought after by the druids as the key to creativity and life itself. It is the Ankh of Egyptian lore.
So, we have Awen – the force that stimulates life, and we have Flow – the direction in which the Awen is motivated to move, or at least to direct our attention. With these co-ordinates can we now define some purpose for these forces at play in the world? I believe we can. In my opinion, the expression of Awen via the Flow of the Universe results in what I term Abundance. Abundance is not just the creation principle, it has contained within it the idea of fruition and enervation of potential. It is abundance that propels the creation cycle – it is the invisible hand on the wheel that spins the dynamo of creation.
I remember Terence McKenna talking about his DMT experiences, and how several times when he broke through into another frequency of existence he was surrounded by curious sentient entities. These 'imps' (for want of a better word) encouraged Terence to manifest energy forms from his imagination, and then would take great delight in seeing him do this. When I hear accounts from the edge of hyperspace such as this it makes me think that within all levels and frequencies that are available within our Universe there is positive feedback and encouragement for the act of manifesting life and the act of creation. Terence went on to consider that the universe sought increasing complexity, but I consider that the Universe is instead seeking an increase in abundance – it is seeking to evolve through the fruition of potential into realisation.
If we consider that everything in stasis (i.e not being actively considered or acted upon) has potential. When touched by the motivational force of Awen in Flow then a bio-feedback relationship is established – in other words – giving our energy to something stimulates it and promotes the potential for it to return some transformed energy to us in a reciprocal manner. That stimulating effect is how I think of aabundance, and for me it answers the whole question of "why?". Why is the Universe or God seeking to encourage abundance? Because it is evolving towards the realisation of all potential, and so the cycle of the bio-energetic feedback loop gives humans the opportunity to gain new energies from those which they discharge or offer to Nature. The recipient of the intention of Awen, whatever that might be, is motivated to grow, increase, come to fruition, blossom, increase and improve. The giver then becomes a receiver too, and the encouragement results in more potential for a repeated experience, thus fulfilling the evolutionary drive – the Flow of the Universe towards Ultimate Fulfilment – the final endpoint of the unfolding of the Universe – McKenna's Eschaton.
Think of how many situations we see this triad of Flow, Awen and Abundance in action every day! Think how often we see potential realised through motivation into fruition! The planted seed is stimulated to grow by the action of the sun warming the earth. The child is encouraged to grow by the appreciating smile of the mother. The musician is inspired to create a song by a natural event like an eclipse or tidal wave. See how this natural cycle is neutral (neither good nor bad) and how it engenders an increase in life and the quality of life on this planet?
Realisation in druid life
How do druids make this triad of Awen, Flow and Abundance real? Their rituals, their timing, their energy feedback, their creativity – the Bard stimulates the Awen; the Ovate learns to align himself with the Flow of the Universe; the Druid promotes the feedback loop to create Abundance. So, every day I consider that druids are seeking to use educate themselves in the ways of this triad of life, and that they are inventing or re-discovering the ways that increase the natural life of whatever they interact with. This is how I see the benefit that druidry provides in the form of the Triad of Life.
Gwas.
====================================================================
Dowsing and Druidry: Where Paths Cross
Introduction
In this seminar I want to discuss those areas of modern druidry that have direct correlations with dowsing, to talk about the kinds of mental processes they have in common, and most importantly to discuss the way in which dowsing can enhance, enliven and affirm one's approach to the lifestyle that we call druidry. If you have never thought to consider using dowsing to enhance your druidry activities then some of the ideas in this article may surprise you; most I hope will encourage you to try them for yourself, if you haven't already; or perhaps you may see the activities in a new light.
Like the two strands of the double helix shape it is my contention that the disciplines of dowsing and druidry have many points at which they meet as they intertwine around each other. Dowsing is the left-brain discipline – a study in extracting knowledge from some divine source through the power of the questioning intellect. Druidry is its right-brain counterpart – a discipline of gnostic inquiry(with a small 'g' indicating the method rather than the theology), intuitively and creatively guided towards belief and understanding. Yet I suggest that students in either field would be equally happy with either of those definitions of the qualities of their chosen discipline, for they have much in common. I choose both disciplines, because I feel that the best progress is made when both sides work together in harmony, and I believe the two disciplines have a great deal of synergy.
Dowsing is an ancient skill, and is an activity of which you are probably quite aware. In that sense I'm not intending to go over old ground (no pun intended). I will merely provide a cursory definition and we can move ahead. I hope you will not be too disappointed that I will not be covering the subject's history or its practicalities – all that material can easily be found elsewhere, and there are some references to material at the end of the seminar that will provide you with a good background, should you wish to follow it up.
Please bear in mind that the information contained in this article represents my current best information and my most complete models of the paradigms of the subtle energies and their manifestation. These cannot and should not be taken as fact, but rather considered to be a working hypothesis, all of which is subject to change, as this is the nature of Nature and the Universe within which we operate. I do not claim to have a holistic interpretation of all aspects of my work. Instead I hold dynamic models based upon my latest research. All information presented, however, is based upon my own experience, and has been derived from first principles whilst trying to build a framework with as few gaps as possible.
Terminology
Some terms that I use throughout the article should be explained. When I talk of "earth energy" I am discussing the subtle energy that arises from within the earth itself. I believe that this energy is a product of many processes, including
the action of water flowing over crystalline structures in rock
some chemical processes within soil
the earth's inner fusion processes
I am no scientist, and I have no inclination to test for this, other than to dowse it. It is simply a belief based upon my own years of continuous research. These are the concepts I am talking about when I mention "earth energy" – a subtle energy form that is a natural product of The Earth's own processes, and those of the energy that touches this planet.
I also talk about "radiant energy", which is a similar form of 'subtle' energy. I say 'subtle' because this indicates how science is currently unable and unwilling to test for and thus detect this energy form. Radiant energy is my classification of the forms of energy produced from direct or reflected sunlight or other solar emissions. This also includes the light energy from other stars and the reflected light from planets too. It thus refers to the energy emissions of all cosmic bodies whose energy reaches our planet.
Another term I refer to is the concept of the "aura". This is a field of energy that extends beyond the boundaries of the physical object that emits it. The aura is composed of various layers of energy that have a light component, and thus can be characterized by a scale of colours in the same way as a rainbow emits a spectrum of colours. The size and strength of this subtle energy field appears to be an indicator of the health of the living entity that emits the aura, and that can encapsulate humans, animals, plants and even geological features.
When I refer to "magical processes", or "energy work" I try to differentiate between the term "magic" and "natural magick". I define magic as being a set of rituals, tools, visualisations and vocalisations which are intended to bring about change at the behest of, and for the sake of a human. I contrast that with "natural magick", which is a term I use to stress the inter-relationship of Nature with the human being in order to co-operatively bring about a change, and a change that flows with the natural order and direction of a divine process, whether one defines that as a telelogical, ontological or eschatological process.
Defining Energy
The energy that I talk of through this article has many names, and has been known to all human civilisations at all times. Ironically, it is only in our own time, when we have seemingly the most powerful tools of analysis and enquiry, which we seem to be losing the ability to feel and work with this energy. Perhaps, one could say, at a time when we need it most?
This energy is 'subtle'. It is not visible, although it can be made manifest. It has no form, although it can be contained and directed. It has no obvious impact upon us, yet it influences us every day. It is chi, prana, mana, orgone, od, vril…. and a host of other exotic names. It is all around us in Nature, and it is most definitely a natural energy – in other words, it does not exist in man-made materials such as plastic. Curiously, one of its unusual properties is that it is contained by iron!
Beyond this I cannot tell you what this energy is. There is no scientific equipment that can measure or detect it. Like The Tao, if you knew what it was, you wouldn't be dealing with The Tao. As Douglas Adams once wrote about the Universe itself, if it were known it would undoubtedly change its essence into something infinitely more complex. However, this subtle energy can be worked with. It forms the basis of all magic. It can be moulded and directed by the human mind, although it will not bend to its will, I have found. When this subtle energy is accumulated then feats of magic become more possible. When the energy is directed and infused into the land, then the land can be made fertile or barren. This energy has the power to give gradual life or leech it. It can affect the elements. It can balance where there is imbalance. It is the force of natural magick, and thus should be of keen interest to anyone professing to take on the mantle of being a druid in the modern era.
It is the Blood of Gaia pumping to the Pulse of the Universe.
Defining Dowsing
I'm sure that if you've visited any sacred sites that you've inevitably seen those people walking around with little metal rods, and you've possibly even chatted to them about what they're doing and why. You will undoubtedly have come away with a variety of answers: looking for water, or finding an archaeological structure (like Time Team without Tony Robinson), treasure hunting, perhaps. They may have told you they were tracing the paths of earth energies, or even findings the traces of ghosts of previous presences at the site. Oh yes, dowsing goes from the mundane to the esoteric ends of life's spectrum alright!
Dowsing is certainly a tool with a very ancient provenance. Despite what some sources may tell you, we don't really know how far back it goes. One thing we can be assured of – the megalith builders, whoever they were, would undoubtedly have used a method such as dowsing to locate, orient and validate the structures they built, in addition to the techniques of surveying under the jurisdiction of the Dodman. So that's pretty early then – before the farming communities developed, before it was considered something unusual to do. Some think that the early proponents might not even have needed tools such as dowsing rods to do this because they could just sense the earth energies. Nowadays that's a skill that takes many years to develop, and a lifetime to explore.
Other Divination Tools
Other divination tools can also assist you in similar ways when working in the field of subtle energies. For example, crystals provide focus and protection when working with energy; tarot cards can reveal information in symbolic form that dowsing cannot (except through lots of questions which are quite hit and miss), but tarot cards are hard to use outside on windy, wet and cold days! Dowsing rods and crystals are much more practical. There is the sense of intuition, of course. Developing intuition should be the end goal, but dowsing can help whilst you do this to a level you feel confident with. Dowsing is not an end, it is a tool that you should aim to render unnecessary eventually. Dowsing is definitely not the only tool that will help your druidry, but it is one of the easiest to learn, the least esoteric, and most practical to employ regularly. In the next sections I will take you through how dowsing can help in this way.
Defining Druidry
Druidry is also the discovery of, and understanding of Nature. If it only had that element to it then this would make druids simply nature-lovers, or biologists, but there is one additional dimension to the understanding of Nature, and that is an appreciation of its spiritual dimension. Druids have a relationship with Nature in which the divinity of Nature is acknowledged. As a philosophy, a concept of the divinity within Nature has also been called pantheism, but I consider pantheism to be different from druidry. Druids are not seeing gods in every part of Nature: for Druids, Nature IS the divine. This is an important distinction, I feel.
The patterns we discover and appreciate in Nature are the same patterns that we can discover when dowsing. Dowsers and druids alike venerate the energies of Nature and both seek to understand these energies better, knowing that natural forces could offer us a safer and more harmonious future than the forces that mankind alone had unleashed upon the planet recently. Dowsing and druidry offer a path of integration, not disintegration – appreciation, not depreciation.
Druidry is a mental, emotional and spiritual relationship with an "Other" force or consciousness – a sentient otherness, which we might call Nature. Whether you think that divinity is within you, outside of you, or that you are encompassed by it – it is an individual decision, but not one that prevents you from participating. Either dowsing or druidry alone are powerful tools for psychological and spiritual development, but taken together they re-enforce each other in so many ways. In this section I will explain some of the practical levels at which I believe the disciplines of dowsing and druidry coincide.
The Path of Energy
The flow of Nature, its divine imperative, proceeds unabated irrespective of whether our focus or intention is directed toward it. When we "go with the flow" things become easier because we are working in harmony with this intended flow. This is not a "laissez faire" attitude – this is not attitude of The Dude of The Big Lebowski. Becoming tuned to the direction and meanderings of The Flow is not an easy process – it involves attention, a willingness to accept constant change, and a belief that the outcome will serve a purpose. Both dowsing and druidry can assist with making choices that move us closer and maintain us in The Flow of the Nature's divine intention.
The Paths of Learning
Crossing paths
The Fringe: Dowsing and druidry as fringe activities
Spiritual purpose and direction
The Paths of Learning
Dowsing can quite literally find us paths through Nature, i.e. trails, tracks and lines of energy connecting sacred sites or centres where these energies accumulate. Druidry can be seen as one of humankind's methods of finding a path towards enlightenment, or a greater understanding and clarity of how to work with Nature, and a process of discovering (or acknowledging) and working with the powers of Nature. In former times, so we are led to believe, Druid Colleges took children from a young age through up to twenty years of training in order to develop them as competent masters of the art of druidry – a 'calling', and a life path indeed.
Crossing Paths
The crossing of paths can also mean the positive response from two dowsing rods crossing when something is achieved. Nothing is more positive an experience than seeing the look of shock and surprise when a new dowser tries dowsing for the first time and gets the rods to cross, knowing that they were not the ones consciously responsible for making the metal move. It begins to call into question the whole edifice of their existing belief systems. Many of those who have been called to study the path of druidry will recognise this feeling – at once something familiar, welcoming and re-assuring, yet which causes great philosophical upheaval in our search for acceptance in a social structure.
Where paths cross in dowsing terms is a special place where the flows of the two forces interact. They may combine harmoniously to amplify or complement each other, adding to the complexity. They may overlap each other producing a new effect. They may disrupt each others' flow causing re-direction, or inharmonious conjunctions. Whatever happens, the conjunction is different from the singular path.
The Fringe
Dowsing is undeniably still a fringe 'pseudo-scientific', nay paranormal activity, and is viewed with great suspicion by the dominant scientific community at large. Similarly, I feel, druidry is regarded as a 'fringe religion' by many of the spiritual or religious communities, who distrust the stories they hear of naked cavorting and quasi-satanic rituals. Yet people within dowsing and druidry know this to be at the very least a narrow-minded mis-representation, and at worst a slander.
Both dowsing and druidry are paths for the brave – those people who dare to go their own way and to be a bit different – those who care little for the regard of most others, but who tend to have a high regard for Nature.
Spiritual purpose and direction
Consider "purpose" and "direction". Both dowsing and druidry suit the metaphor of The Path – the journey towards something strived for, towards enlightenment, with the travel more important than the destination. What is learned along the way determines the future direction. Dowsing follows the "life force" and Nature generates it, and frames it in a meaningful way, giving it direction and purpose. This may seem a little overblown, or may strike you as hyperbole, but it is in the nature of the divine to bring about wholesale changes in one's life – it can be that intense and challenging. I have seen people try dowsing once and walk away stunned, their minds in turmoil, reeling at the implications of those rods turning without their direct input and against their expectations.
In my own spiritual path I am continually reminded of a phrase from Carlos Castenada's series of books, in which the character Don Juan Matus, a Yacqui Indian shaman, continually reminds Carlos that the only compass necessary upon the journey through the hardships and delights of shamanistic training is to decide whether the path upon which one treads is "a path with a heart". A sound moral compass.
Sacred Space
We all demand a little space. We each preserve either a special place known only to ourselves as being special, or we preserve our own body space from the invasion of other people. From time to time we crave the opposite of this space, and we seek sacred union, but often we seek solitude and a space to call our very own. The special space within which we can be free we might call our sacred space.
Some people are able to overcome their social inhibitions and congregate in a communal sacred space where they can feel free to show how much they are in synchrony with Nature. Many of us reserve such behaviour for our own sacred space. In this section I discuss how to define such a space, how to find a suitable place energetically, and a simple druidic concept to make the space sacred. There are, of course, as many ways as there are people, and you must find your own, but I present a common process.
Auras and nemetons
How to find the most energetic place
Marking out the directions
Protecting the space energetically
Auras and nemetons
One of the first things I learned to look for when dowsing was something's 'aura'. I must have read this somewhere – living things had auras. I discovered that people have auras and that some people can see them as colour fields around people. As I began to dowse the extent of these fields around people I came to understand that the aura is indeed a set of coloured fields that is closely associated with several key energy points of the human body.
When I found that I was able to have some control over the size, strength and quality of the aura that I had around me then I understood that it governed the area of 'influence' that a person controlled. I was able then to turn my investigations to other living species and find similar, if not the same, living subtle energy fields surrounding those entities too: animals and trees in particular. I practised dowsing for the edge of the aura of trees to see how large they were, how strong, whether obstacles influenced their shape, and what influenced their quality.
After reading Emma Restall Orr's highly influential book "Living Druidry" I became familiar with the concept of the "nemeton".
The nemeton is the equivalent of a sacred space:
"The nemeton may be a physical temple, stone circle or forest grove, but more often in this spiritual tradition where most people practise alone, it refers to a far more personal idea: it is the sacred haven of the individual. It is the place where we go in order to let go of the world, where it is easier to feel safe and free, to breathe in the beauty of the earth." (p64, 'Living Druidry' by Emma Restall Orr – Piatkus Press)
Emma talks of being enfolded under the protective nemeton of friendly trees, cosseted in their cape of subtle energy that can only be felt by one prepared to spend the time attuning to such things. I learned to do the same, and after some initial feelings of reluctance (on both sides) I became friendly and attuned to many types of tree, and have felt the benefit of that ever since, in terms of their protective qualities and their knowledge. If I can attune to the tree I will use its protective spread as a living nemeton, able to let go of my mind in order to fully engage with Nature.
Protection
Working at known sacred sites is, I believe, one of the most energetic experiences available to the spiritual questor. However, you are not the only one who has ever worked at these sites, and not all experiences that have taken place at sites have been beneficial and wonderful. Some sites have become imbued with negative, forceful or imposing energies that will not aid you in your spiritual journeys, or help you to develop. You should therefore consider, when approaching a new site for the first time, how you feel about the 'vibe' of the place. Do you feel aligned and in control?
When you begin to open up to a site you may discover it does not feel good, or that you may begin to feel not in control of the forces there. David Furlong issues this warning:
"When venturing into the exploration of subtle energies we need to appreciate that some of these energies can potentially be very destructive….We need therefore to create a form of protection that allows us to adapt to different environmental circumstances." (p.35, "Working With Earth Energies" by David Furlong -Piatkus Press)
He goes on to describe a few meditations designed to form a protection around the seeker for just these circumstances, and I recommend that you find just such a method too before you begin to open up and attune yourself to ancient sacred sites. Most are highly beneficial, but all seekers come across something unexpected on their travels eventually, and none of us are immune to this whatever level of awareness we may have developed.
Finding the most energetic place
Whenever I visit a sacred ancient site one of the most important things I do is to find a place within the site that is suited to my own particular energetic qualities. You see, I found out (much to the disappointment of my macho ego) that I am aligned to feminine energies by nature. Not exclusively (a balanced person doesn't neglect any energy form) but by inclination I felt drawn to and better when within a female energy formation or power centre. A power centre is a place where energy accumulates, whether naturally, or by the design of our ancient megalithic site builders who knew how to design structures that could shape and form energy of all types and alignments to suit whatever their requirements were.
When I visit a sacred site I am usually keen to discover the whereabouts of a "friendly" power centre, and use my dowsing rods to ask for the "best place" for me to be. One only has to stand at such a spot for a few moments, being silent and tuning into the feelings of the body in order to feel the benefits of being on such a spot – you don't want to leave! It's like being empowered, showered, with a subtle energy – a bubbling stream infusing and energising you. If you feel the complete reverse of this effect – a draining, or weakening force, then you have stepped into a power centre that is opposite to your alignment – one that you are not attuned to naturally, and you may even get a headache if you stand there for too long.
People sleeping over energy centres to which they are not aligned can suffer long-term illness and this concept is called "Geopathic Stress". There are many theories as to its cause, but I have found many simple ways to counteract such spots by neutralising, re-composing or diverting such energies. This is a large topic and not one that I can go too far into in this article, but if healing is your thing, then I recommend you read Jane Thurnell-Read or Roy & Ann Procter's books on the subject. David Cowan also has some information on his LeyMan web site (resources listed at the foot of the article).
Marking Out The Directions
Once positive, beneficial and empowering locations have been identified then their interconnectivity and their sources can be discovered by following the dowsing rods along the lines of energy that go to form the power centres. People like David Cowan have traced such lines for many miles across the countryside. Hamish Miller and Paul Broadbent travelled the length of the legendary Mary & Michael Lines that weave around the Dragon Line found by John Michell. That line stretches from Norfolk, through places like Avebury, down to Land's End in Cornwall. Not all lines are so long, however, and for druidic purposes it is usually only localised energies that you would need to map out of attune yourself to.
One of the simplest things you can do in terms of marking out energies with a dowsing rod is to mark the four cardinal directions. Who needs a compass when you have dowsing rods? Try it for yourself and you will think you are some kind of homing pigeon! The rods can easily find you the point where a rising sun will appear, or where the moon will show itself over a particular hillside, or where the stars are positioned relative to the earth. It beats carrying around a large amount of reference material and charts!
Once you have established the directions you may wish to draw into your space whatever energies you feel may be appropriate to our needs. This is where you have to rely upon your own instinct and intuition to bring in those elements that define and support you in your aims and pathways. Dowsing rods will only help you determine which elements may not be suitable, and it is always worth checking your ideas before you embark on working with energies if you are not sure.
Protecting The Space Energetically
When describing a circle to work within for a druidic ritual or simply as a protective space within which to attempt to attune to Nature I have found that the dowsing rods can assist with that aspect of the work too. Have you ever wondered whether the protective elements you have described around the circle are actually protecting you as you expect? Yes, this may be subjective, and here the cries of "you're only finding what you want to find" are ringing in my ears, but as with determining the strength of a tree's aura, for example, you can also determine the relative strength of your magic circle in the same way. I use a portable scale of relative strength – in other words I ask the rods questions such as "Relative to other circles I have drawn, and on a scale of 1-10, how secure is this circle I have just drawn?". The answers, of course are only useful to you, as with so much of this kind of work. Low scores may guide you to discover external factors affecting your circle.
I always feel more assured to know that I have described a circle at the most energetic place, that there is nothing "unexpected" within that circle, and that it is properly protected just as I need it to be before I settle down with all of that out of my mind to attune with Nature and progress in magickal work. using the rods in a similar way I can also determine the relative strengths of the Sun and Moon energies that I may wish to work with at the site. All useful stuff to know.
Mazes and Labyrinths
For as long as art has been inscribed into rock there have been a depiction of concentric circles and pathways that define labyrinths and mazes. Whether these symbols are practical, symbolic, spiritual or artistic has never been explained, and probably should not be. Today the maze and labyrinth has come to be seen as a depiction of a psychological or spiritual journey through to self-knowing. I believe there is a little bit more to it than that.
Form of the spiral
Labyrinth Design
Sanctuary space
Sigils and manifestations
The Form of the Spiral
The spiral is the inherent form within Nature that energy taken when it is in motion – from the smallest of things to the largest, from the microcosm to the macrocosm, from the movement of sub-atomic particles to the shape of galaxies. The spiral nature of water was discovered and utilised by a man named Viktor Schauberger, an Austrian scientist who studied hydrodynamics. He was the inventor of the world's first log flume, of a flying saucer that flew, and a revolutionary turbine that used the concept of an implosive vortex to effortlessly and efficiently power an engine with little noise or heat by-products.
It may come as no surprise then that when dowsing the overwhelming terminal form of subtle energy is a spiral, whether clockwise (deosil) or anti-clockwise (widdershins). These forms are engraved onto hundreds of rocks where they are called cup and ring marks, or more generally simply referred to as Neolithic art. Scotland in particular has many fine examples of these shapes, as does Ireland's Boyne Valley. Are they art, a symbolic language, a representation of the earth energies, or perhaps a map of the stars? Currently there are only theories without coherence, but these artefacts carved in the rock accompany many, many stone circles and other ancient sacred sites across our lands and into Europe.
Carved marks (highlighted with pencil) at Nine Ladies stone circle
Whatever their purpose, it seems as though ancient man was keen to accurately and skilfully record these shapes for posterity and to relate them to the ancient megalithic monuments that were the sites of his reverence, his use and his toil. Superimposed we see that the spiral, the circle and the progression of the wheel of the year are intrinsically bound together in their expression through the positioning, design and use of these ancient stone sites.
Labyrinth design
The form of labyrinths and mazes are all based upon the spiral path. The mathematics of the shapes comes from concepts of sacred geometry and number. Mazes and labyrinths appear throughout our collective world mythologies and have been reproduced throughout the ages as they have fascinated one culture after another for generation after generation. In this country some of the oldest designs have been built up of turf and despite the evil of the Enclosure Acts and disrespect through the ages, some still survive. Many more are being created or recreated today as the concept is being revived by modern pagans and appreciators.
At a recent dowsing conference visitors were encouraged to trace the path of a labyrinth laid out in coloured ribbons with the aim of achieving the kind of meditative state required for dowsing by the time the journey in and out had been walked. The journey was the therapy – the symbolic movement along a long path, circumscribing the goal, yet assured of reaching the goal, was deemed to be sufficient a learning experience in itself. The movement through the various rainbow colours of the ribbons symbolised the movement through the seven chakras from root to crown, each stage bringing its own degree to the enlightenment process.
Classic labyrinth design
In this way the labyrinth symbolises and encompasses the concepts of the spiritual journey – that path is winding, it sometimes leads away from the nearby goal, but eventually – with courage, confidence and conviction – the goal is reached, only for the practitioner to have to unwind their steps in order to be released again. Along the way the practitioner learns that the goal was not what they were seeking – it was the state of mind engendered by the journey.
As a personal journey I have found that the labyrinth's design varies for each person. One design does not suit every person who walks it. It is therefore best for each person to create their own design specific to the purpose that they intend, and this is where dowsing can help with such a process. Using a dowsing rod, keep in mind one of the rainbow colours and ask the rod to show you the path that this colour would make in your own personal labyrinth. Trace this path, marking it as you go, and then proceed through all the other colours. your design may be classical or unique – but it will be the design most suitable for your own development.
Sigils and Manifestations
Just like walking a labyrinth, dowsing earth energies and formations results in a meditative journey across the landscape, moving in sacred geometrical patterns, tracing waves and spirals, and entering into a meditative state of mind in the process – in fact, this aspect is essential to the exercise of dowsing.
Sigil from the Genius Loci at Castell Bryngwyn
Where this process interlaces with druidry and other magickal practises is that earth energy can take on symbolic forms, whether naturally-occurring or induced through manifestation. A sacred site or other natural space may have a sigil drawn in subtle energy at the entrance to the site, or at a power centre. Finding and re-tracing these sigils, I have found, will allow the druid to enter into a more permissive relationship with the energy forms that guard and preserve ancient sites – the genius loci. The concept is akin to unlocking the site's potential, or having the "password" the permits entry to the deeper realms. Here's David Furlong again:
"When you have satisfactorily connected with his presiding spiritual presence you will be given a pass code or a symbolic key, which you can then use to tap into the energy…The energy in these centres is immensely powerful and can be used for all sorts of healing and inner development work." (p.53, "Working With Earth Energies" by David Furlong – Piatkus Press).
I recall one specific incident, for example, at Wayland's Smithy in Oxfordshire in Summer. I approached the site by the familiar tourist path, but as I tuned into the feel of the site I became aware of the "real" entrance being between two nearby trees. I used the dowsing rods to determine whether the site had a sigil formation that could act as an entry permit. I found such a symbol hidden away at the rear of the site, outside of the energy aura of the barrow. I memorised its form, and returning to the 'entrance' trees I traced this sigil on the ground between them. Immediately I felt "pulled" into the site and spent the next few hours enthralled by the knowledge that I became privileged to, and the general feeling of joy that such an act had engendered. I didn't want to leave!
The Meditative State
The meditative state of mind is one in which the rhythms of the brain are consciously changed by techniques such as relaxation, by quietening the sensory inputs such as external noise and light, and by trying to prevent conscious thoughts from entering into the frontal mind space. This is merely a high level summary of such techniques, and there are many ways that these things can be achieved, however the goal is to allow the same brain patterns to emerge as one would find when a person is just about to go to sleep. Just before the sleep state is entered the brain's rhythms are in a particular state and this state is very conducive to successful dowsing, among other things. The state has been called by eastern philosophers "mind/no-mind' – a state in which thoughts can be allowed to occur seemingly of their own accord and without being 'conjured' by the subject themselves. A small gateway is open, a channel, across which images and feelings can flow bi-directionally – in from the aether of "the outside" and out from the depths of one's own self. In a sense, a communication link is established in this state of mind between you and The Other, or Nature.
Accessing The Other knowledge source
Receptive Mind: the dowsing state of mind achieved through meditation
Objectivity through disengagement
Accessing The Other knowledge source
What is "The Other"? Oh, such a difficult question to answer! There is barely time and space to go into it. Rather than answer that question, all I will say is that The Other is whatever source of sentience, thoughts and knowledge can be derived from outside of one's own conscious awareness. Some people may be content to align themselves with a purely psychological model such as Freud's, in which these connections with another sentience is considered to be a connection with the deeper recesses of one's own mind space – the unconscious ID, or Super Ego. Others have turned to Jung's explanations of a Collective Unconscious.
Some have turned eastwards and talk of the Akashic Records – a great storehouse of knowledge from which the human race can obtain information. These models are unimportant. However you wish to define your connection with this sentient knowledge source – whether it be you, or something else – the point is that whilst in a meditative state of mind it is possible to communicate with The Other, to obtain or be given knowledge previously unknown to you, to converse with something that seems to be more intelligent and aware than oneself.
In druidry we might consider The Other to be Nature or Gaia – "the force that through the green fuse flows", as Dylan Thomas had expressed it. These are archetypes that assist us with putting a "face to a name", so to speak. In terms of dowsing, The Other is the source of the "answers" that we are receiving through the dowsing rods, or intuitively if no rods are being used.
Receptive Mind: the dowsing state of mind
Beta rhythms are our normal waking consciousness state and are very active, with tall spikes and narrow amplitudes. In contrast, Theta rhythms are more relaxed, with shallower and wider peaks and troughs, looking a little like a heartbeat rhythm when graphed.
"Theta is one of the more elusive and extraordinary realms we can explore. It is also known as the twilight state which we normally only experience fleetingly as we rise up out of the depths of delta upon waking, or drifting off to sleep. In theta, we are in a waking dream, and we are receptive to information beyond our normal conscious awareness. Some people believe that theta meditation awakens intuition and other extrasensory perception skills." [http://www.meditations-uk.com/index.html]
The state of mind required to dowse is similar to that required to perform communing, or natural magick. The mind should be focused on a topic or desire, yet unfocused in terms of leaving the "reducing valve" open to allow ideas and images to enter. It is beneficial to prevent your own conscious thoughts from dominating or interrupting the flow of the stream of information. This requires a stillness of mind to achieve – a certain disengagement. I find it helps to un-focus the eyes. This is the same state of mind as when I meditate at sacred sites to encounter the wonder of Nature, thus the state of mind required for dowsing helps druid meditation and vice versa, because they are essentially the same. Sometimes this state may be termed "hypnogogic" or "hypnopompic", depending upon whether is occurs going into or coming out of the sleep state. For the purposes of dowsing or druidry I call it "receptive mind".
Objectivity through disengagement
Disengagement from trying to direct the outcome ensures a more objective and consistent, and ultimately believable experience – whether that be in relation to dowsing or in one's dealings with The Other/Nature. The element of surprise at the revelations of the dowsing rods and the intuitive druidic experience of vision and gnosis (knowing information intuitively) is obtained by remaining objective. When I speak of objectivity I mean it in these terms: firstly, not attempting to influence the outcome of the process. Secondly, I mean not allowing one's rational mind to re-route decisions, or close off avenues of investigation or possibility. Thirdly, I mean trusting that the outcome is true if the feeling that accompanies it is one of truth.
For example, I get a pang of guilt if I feel I have attempted to force the dowsing rods to elicit a specific response to a question – this makes me re-try the question until I am sure that the response is consistent and I am no longer envisioning the result before it happens. This takes a certain amount of rigour of mind – a discipline of intention not to get embroiled in trying to influence the outcome. Similarly, I sometimes attempt to interpret the results to fit the pattern of what has gone previously. Again, I often feel a little guilty when I am aware that I am doing this. Usually, I simply write down the responses and try to make sense of them when I have exhausted the stream of questions about a specific subject, then interpret them later. At other times one response will naturally lead me to another question. I do not pre-judge a method, only a topic.
We know so little and have re-constructed so much of what we believe druidry is all about that we often fall into the trap (and it is a trap, a channel that limits one's scope to work) when we attempt to make out natural feelings about a topic conform to the expectations of what we have read, heard and believe other people to be doing.  Many followers of the druidic path engage in other people's rituals, and follow other people's rules, methods and myths; they copy their movements and stances, chant their words, sing their songs. Tradition has a part to play in donating a symbolic history, but in my view specific rituals and objects ought to be determined by each person individually. This is especially true for a path that is largely re-constructed in the modern era.
Each person has a part to play in this rebuilding process. For example, it is my contention that the Celtic festival days do not have any specific energetic value in themselves. In other words, they are a day like any other in terms of the energy levels in land or at sacred sites. Yet many people in our tradition mark these days specifically as though this day and only this day, on a specific Gregorian date, is significant in some way. It is only a marker of a movement into another period of time – a post to pass indicating we are moving into another part of the year. Yet some would insist that it has special meaning in itself and celebrate this day and only this day at this time of year. I was only able to come to this understanding through the combination of dowsing and druidry.
Working With Trees
The Druid has long been associated with the tree. One could almost say it has been a long-standing companion, a dear friend, a wise tutor. One of the things that can be learned about trees through the skill of dowsing concerns the status of any particular tree: is it happy, healthy, well situated, affected by its environment, or happy to assist you in your druidry work?
Dowsing a tree's aura
Establishing a connection
The Druidic Stages: Birch, Yew and Oak
Dowsing a tree's aura
Like all living things a tree has an aura – the extent to which the bio-chemical subtle energy fields can be extended. The extent of the aura is both a reflection of an intention on the part of the living organism to declare its presence, and a reflection of the organism's "inner strength". It could also be taken to be a reflection of the organism's vitality, as poor condition and health will diminish the aura's extent and strength.
To dowse a tree one only has to approach it with dowsing rods from a respectable distance, or to work outwards from the trunk, using the rods to determine the extent of the energy field of the tree. Over time you will build up a library of suitable questions, and a knowledge of how aura sizes and strengths relate to types and sizes of trees. You will undoubtedly be surprised that small trees often emit large and strong fields, possibly a function of their youthful life force, whilst some elder trees may have faltering or weak fields, particularly if they are sited close to electricity lines or sites of man-made degradation such as quarries or rubbish tips. In search of a reason you may begin to ask interesting questions about how such factors affect trees once you come across a few surprising results for yourself.
Establishing a connection
The aura of a tree can be a nourishing and protective environment for a druid. In the following quote from Emma Restall-Orr's book "Living Druidry" she recounts how she approaches a beech tree in early Spring:
"Not yet under the reach of the branches, my weight upon but the furthest of her roots stretching out beneath the ground, the change in the air before me is distinct. 'Sacred spirit' I whisper, almost aloud, 'you know who I am.. once again I come here in peace, with the gentleness of my soul, my intention to honour the waking day, seeking inspiration..' …Offering my own truth, my trust I ask, 'may I enter your temple?' … The acceptance is palpable. As I walk forwards in the clearing beneath her bare canopy I am washed through with her song, like the certainty of real laughter and the scent of mist-wet wood. And with my body aching in the cold, for a long while I simply sit on the mud in the darkness, breathing." (p.68. 'Living Druidry', Emma Restall Orr, Piatkus Press)
Emma is finding the information she needs about the tree from communing with it. For her this is a process of attuning to the tree and becoming confident with it. This works the other way around too, as the tree needs to become equally familiar and comfortable with the person who is communing with it. However, dowsing can facilitate this process by determining a suitable tree very quickly through a directive such as "Take me to a tree that is suitable for working with to do <x>!"
The important elements here are trust, honesty and integrity. You are dealing with a living entity that has more wisdom and experience that you do, and which has much to offer in terms of protection, nourishment and knowledge. It pays to be respectful and sincere in your dealings with trees.
The Druidic Stages: Birch, Yew and Oak
One druidic viewpoint that I can relate to particularly is that of the three stages of druidic development as represented by the birch, yew and oak trees. These trees (and others) are both symbols and sources of gnostic learning. They can be communed with, as can other types of trees, of course, however, these trees offer specific knowledge relating to their species. Here dowsing can assist with the druidic learning process by acting as a verification tool.
Communing is a difficult and sometimes unclear activity: when is the voice of a tree talking to you and when is the voice your own? Which information is coming from some other source, and when is it simply emerging from your own consciousness? These things may not be important for you to differentiate – however, I find dowsing can often resolve some of these dilemmas and others that emerge from interacting with trees. For example, I have found that the oak tree is particularly fond of giving information in the format of a cryptic phrase or using symbolic language. I was once informed "The Sun is the Key, The Moon is the Door." Dowsing was able to help me narrow down the possibilities as to what this information referred to, so that I could concentrate on topics that would bear fruit.
More mundanely, dowsing has been able to identify specific places to visit that would allow me to make progress in my studies. I simply have to draw up a list of possibilities – this place known to have birch trees, or that place – and then dowse as to which one would be the most productive for me at this time. This has been particularly useful for me as I have moved to the Yew stage in identifying old yew trees that are retainers for lots of ancient knowledge, and which have a temperament suitable to be worked with.
It has been said that trees are all linked together, and that one example of a species is representative of the whole, or that they are all in connection with each other and so the choice of individual tree is not important. I have not found this to be the case. For me, the dowsing rods are able to clearly differentiate between several yew trees within an area and specifically choose one tree that is the most suitable. They have never let me down yet. Whenever I have tested this by trying to connect to a different tree other than the one suggested, whether before or after checking with the rods, the connection has been difficult or unproductive. Something somewhere knows the score!
Of course, I'm not suggesting that you shouldn't work through any difficulties with communing, or that there is no benefit to doing so. What I am suggesting is that dowsing makes the process of progress much more efficient. Time is saved. Information is quickly sorted through. Suitable times and locations are easily determined. The best work is done in conjunction with the dowsing rods as a guide or check on proceedings.
Energy Work with Crystals
In the not too distant past I was unable to comprehend of how crystals could in any way affect the way I lived my life, but that was before I knew about subtle energies. Now that I do know something about them they have become a valuable resource – not essential – but valuable. I have found that crystals can act as either magnifiers, absorbers, attractors or reflectors of subtle energy. They can bring the energy into a focused beam, or disperse it into a wide area.
Crystals can retain energy within a structure, or they can prevent energy from passing through. This was clearly something known to the Megalith Builders too, for they carefully designed quartz-rich rock into their structures, especially those which were constructed for transformation (or some similar shamanic principle – astral projection, deep meditation, shamanic flying, vision-questing, for example).
Crystals have a multitude of uses, many of which I am still discovering. Experimentation is the key. I have found through experimentation that it is wise to ignore anyone else's crystal layouts (the positions of crystals relative to each other). As with labyrinths the only layout that is important is your own. I am aware that this may deeply offend current crystal users, and for that I apologise, but I base my work on personal experience not the work of others, so I can't speak from any other perspective.
When I discuss "crystals" in this section I am referring to any crystalline rocks, particularly igneous or metamorphic rocks that have large crystalline content. Many ancient sacred sites have been constructed not out of crystal, but out of rocks that contain a high quartz content or have large crystalline structures to them.
Choosing crystals: How dowsing can help you pick out which crystals to use
Crystals layouts: How dowsing can help you to place crystals in the most helpful configuration/layout
Determining success: How dowsing can help you know the status of the energy work
Choosing crystals
The qualities of various crystals is a field through which I am still working. There are many reference books out there that can assist you with this, but I would not recommend using any of them if you are a dowser. Instead I would recommend you buy a varied collection of crystals and stones and then use the rods to determine what you need whenever the need arises. Essentially I let the rods decide which stones are required for specific purposes. In this way I retain a degree of flexibility, and do not begin to impose my or anyone else's "knowledge" of the properties of crystals. Frankly, the sources for such information all refer to each other or differ vastly anyway. Begin to build up your own vocabulary of what crystals mean for you, and what uses you can put them to, is my suggestion.
Crystal layouts
The placement of crystals and stones determines the efficacy of their effects. Crystals can be used to gather subtle energy into a specific place, to enhance its effects, and to focus that energy to be directed towards a specific place. This kind of activity is only possible if the crystals are placed in a particular formation to achieve such aims.
There are two main forms that can be used to do this – the circle and the parabola. The circle is used for working with earth energy, and the parabola is for radiant energy. For example, if you were working at an ancient stone circle, looking to accumulate as much subtle energy as possible, you could form a circle of crystals or stones around yourself and then those energies that passed through that circle would be focused upon you. If you were working at Neolithic dolmen structure at the Summer Solstice and wanted to re-direct the energies of the Sun to a particular place you might form a parabolic crescent shape with several crystals, then use a single crystal placed at the parabola's focal point to direct the energy to a specific place.
These are just general techniques – it is best to allow the dowsing rods to direct the exact placement, spacing, selection and direction of any crystal or stone layout providing you have stated clearly what your purpose for the layout is. Sites, weather conditions, astronomical alignments, energy forms and so many other factors are difficult to mentally appreciate or calculate, so I always allow the rods to direct such operations for me. Of course, if I were very skilled I may allow intuition to do the same work, but I trust the rods more!
Determining success
You are really only limited in the application of forming, storing and directing subtle energy by your own imagination and intention. Of course, those of us who follow the druidic ways of life may feel bound also by moral limitations to such work as well. Personally, I will only experiment with a new way of applying energies if I feel it is justifiable, and that it will not adversely impact someone else. In a connected Earth view this could be a difficult judgement to make, but we have to be reasonable about this – some experimentation is necessary because we have so little knowledge to guide us from our ancestors – only what we can glean by our own re-fashioning of their knowledge.
Whenever I perform a new work with energy I dowse to determine its effects upon me, on the locality and wider if the work had obvious connections to other sites or people. I use the rods to gauge the degree of change, the strengths of the energies before and after the work, and any time frame surrounding the energy work – for example, will the outcome be immediate, or will the change only become evident at some future date?
When the results of experiments in dowsing, druidry and energy are checked you may be surprised by the outcome. External elements such as forces from other sacred sites, the energies of trees and other nearby plants, or the influx of energies from distant stars may be drawn into the work you are doing. Because such things are seemingly far beyond the wit of a normal human being to calculate I always try to keep the intentions of the work as close to Nature as possible, i.e. as natural a process as can be done, and one with the least personal gratification involved. I consider myself to be a worker, a servant to these forces, not their master, and this humility has always served me well. Luckily nothing too adverse has happened to me yet, and so it is with confidence that I espouse this guidance.
Chakra Fields and Healing
The concept of the chakra points within the human body is an ancient one pre-dating any written knowledge we may currently have concerning them, for sure. The earliest records are the ones from the Chinese culture, but I am convinced that they were known about long before this, as evidenced by the mystical practises and the nature of the energy effects of particular sacred sites that have construction dates going back to 6000 B.C.E and beyond. However, I am not trying to convince anyone of the history for the concept – what I want to draw your attention to is the spiritual and therapeutic aspects of the chakra points, and how they correspond at time to concentrations of energy in and around sacred sites. I also want to demonstrate that New Age therapeutic practises such as crystal healing, Reiki healing or other forms of subtle energy manipulation have a basis in the concepts that are a crossover between dowsing and druidry.
Dowsing an aura: determining the state of someone's health
Healing with crystals: using energy to change a person's energy fields
Gathering energy from nearby sources – how dowsing can find them for you
Finding power centres in Nature that can heal you
Dowsing an aura
Dowsing using a pendulum or rods, or for skilled practitioners, by the use of energy sensitivity alone (e.g. Reiki) can determine the status of the energy field of a human being, animal or plant. Each living being has an energy field that is composed of bands of colour that appear to be similar to the colours in the light spectrum (i.e. red, orange, yellow, green, blue, indigo and violet). These colours appear at various distances from the subject, such that the red frequency range is furthest away, and the indigo range is close to the subject. Some practitioners suggest this is also a vertical correspondence aligning to the chakra points of the human body, going from the red 'root' chakra at the base of the groin, up to the indigo 'crown' chakra at the top of the head.
Source: http://www.natmedtalk.com
Each of these colour ranges have a particular meaning and correspondence to a particular part of the body, or they govern a specific human system, according to different medical theories. This is not something I want to go into great detail about, because it is not an area that I have any knowledge of, nor do I use it often. Instead, I simply wanted to say that through dowsing it is possible to identify any parts of the colour spectrum that appear to be too strong, too wide, too weak or too narrow. Of course, one needs to have a baseline to work from in such things, and I do not. Instead, I use to dowsing rods to ask specific questions such as, "Cross when I am within a colour band that is not naturally balanced." and then work from there as to whether it need calming or boosting in order to bring it back into equilibrium.
The method then employed to re-balance anything uncovered during the examination is also highly variable, and again is not something that I am particularly skilled in or knowledgeable about. I do, however, know people who are, and they tell me these methods can be highly effective even if the mechanics of it are not understood. They don't need to be – they just need to work in restoring health to the person, animal or plant. That is the ultimate test of their efficacy, regardless of whether you or the subject perceives this to be a placebo effect, a natural process, or an assisted process. I simply want to point out that there is a cross-over between dowsing as the investigative tool, and the druidic practice of energy or crystal healing.
Healing with crystals
In a similar way to the method used to heal a negative energy pool, or to divert or deflect a "black" stream of energy, crystals can be used to congregate energy, focus it, and re-direct it towards a beneficial aim. In addition they can be placed in formation to create a barrier against unwanted energies in order to protect an individual from unwanted energy flows.
My method of healing is to have no method. Instead of following any specific recipe for a cure, or a standard practise, I use the dowsing rods to determine the number of crystals required for the individual being treated, what type of crystal these should be, and where they should be placed. It's a case of each person being individual and too many factors to calculate for any standard practise to work as effectively as one that is designed specifically for the individual.
Harmonic and dissonant fields
Harmonic fields are fields of energy that your body is naturally sympathetic with – with which it resonates in tune. Standing within such fields you will feel enlivened, uplifted, happier and empowered. Dissonant fields are the opposite – they feel draining to you, leeching, they make you feel weaker, more lethargic. Such fields have obvious potential health applications, if only that if you feel weak, you could find an harmonic field and within minutes your body will begin to re-balance itself to a beneficial energetic state.
What is interesting is that what may be harmonic for one person may be entirely neutral (i.e. has no effect) or dissonant for another person; each of us it tuned differently at different times, although we seem to have a general tuning which is our preferential state. Myself, I am roughly categorised as a "moon-aligned" person, and thus I resonate well with female earth energy and radiant moon and planet energy fields such as Venus. Others may be Sun aligned, in which they resonate with male earth energy and radiant solar and, to a lesser extent, star energy.
This all sounds rather wacky, but it is not too important to know whether you are solar, stellar or lunar aligned. If you are a dowser you can use this skill to determine nearby sources of harmonic or dissonant energies, and these can be found irrespective of whether you are aware of which energies you resonate with. The instructions can be given to the rods to take you to a sympathetic energy field and they will do so.
The druidic connectivity and intention techniques (some call this 'magic' – I prefer the term 'natural magick' to differentiate it from anthropocentric energy processes) can be used to draw harmonic or dissonant energies to you. Of course, crystals or other tools could be used to manipulate the energy to move, but this is not entirely necessary. Visualisation, intention, focus and 'right mind' can achieve the same ends without any paraphernalia.
Working in harmony with the flow of the universe is the goal of natural magick; understanding the strength, location and direction of flow of the earth's energy systems can help to bring this harmonisation about much more easily, although it is not essential to understand these things, only beneficial. It makes for greater efficacy in magickal work, and can provide a level of reassurance that work has been done to the level required for change to arise from the work.
Finding power centres
Once you become attuned to the feel of good and bad energy points you can just stay there until you feel better. If you happen to stand in a place that feels bad ('bad vibes') then you'll soon move as long as you are being aware and 'switched on' to the possibility.
Dowsing for a power centre is easy. The simple instruction should be termed to suit whatever you need at the time, but an instruction to the rods such as "Please find a power centre to which I am attuned" will allow you to follow the direction of the rods until they cross over such a location. Similarly, you can simply adjust this to find a power centre that may have inharmonious energies, and then perhaps you may test whether these are specific to you or more general.
Once you have stood on power centres that are both harmonious (i.e. to which you are attuned) and their opposites, then you will begin to notice certain effects. 'Positive' centres will feel like there is an up-draught of bubbling air through your feet. You may smile whilst stood there. You will want to remain there, and will enjoy the experience. You may tingle slightly. You may feel warmer than your surroundings (a good way of staying warm in Winter!).
'Negative' power centres, i.e. those that are not in tune with your own natural frequencies, are going to feel draining. When you stand in such a place you will feel disturbed, not quite right, uneasy.
If you are sensitive to energy flows you will feel the life force being drawn out of you through your feet, as though your life is draining away down the plug hole of a sink. You may feel slightly dizzy, or nauseous, and you may begin to feel a tightening around the temples of your head as though you are about to get a headache. You may only be able to stand in such a place for a short time before feeling the urge to move away.
Some places are naturally draining, but this should not necessarily be seen as a 'bad' thing. Sometimes it is good to have negative or unhelpful energies drawn out of you like the leeching of a poison. At other times it is unhelpful to be infused with more energy. Either way – as druids we should be seeking to be using energy centres to achieve a balanced state of being, as this is the most healthy state – an un-stressed state of being – neither wanting energy nor leaking it. Of course, for specific purposes we may seek to energise ourselves with sympathetic power centres, or to cleanse ourselves of useless energies by having them drawn out of us.
Power centres can occur at the most unlikely places, and often the places you find seem totally innocuous. Of course, they may not always have been so innocuous, and once upon a time they may have been places where people invested energy, such as an altar, or love nest! There is a lay-by down the road from where I live that is full of positive energies created by the investment of loving energy from young courting couples who stop off regularly. Equally, some places may have been invested with the energy of a murder, or the dying pains of a wronged person, and these places also leave a strong impression energetically.
I have found some typical sites for power centres include:
at the base of trees
next to streams where water is aerated
small bare patches of earth
faerie rings of grass
where ley lines cross
where earth energies pool and spiral together
There are many other places, and a good place to start is at ay obviously spiritual or religious place, or a beauty spot. This list is only intended as a starting point for you to find one for yourself. Houses have them, as do gardens. Perhaps take a look at your favourite place in the garden, your favourite room or chair, or anywhere you perform devotions. Did you find something there?
Sacred Sites
Almost all of the work I do whether in terms of druidry or of dowsing is done at some kind of sacred site. There are many reasons for this, not least being that I am fortunate enough to have so many sites available to me within easy travelling distance. My other reasons for visiting them, however, are that I believe they offer the most energetic potential to assist me with getting energy experiments done, for communing with trees and guardian spirits of such places, for working with elementals in their wild state, and for utilising the inherent energy of the places where such sites were located.
The benefit of presence
The energies of the Eight-Fold Year
Gnostic versus divined information
Building an energy map
The ritual entrance and exit
Finding purpose at sacred sites
The benefit of presence
Although dowsing can be done anywhere, even remotely against a far object or out of time, it is particularly relevant when performed at sacred sites where the energies of Nature flow freely. Many sites these days have been constrained or destroyed, so finding a fully-working free site is difficult. Yet it is always worth the effort. Map dowsing may seem like the sensible idea when the rain clouds gather, but there is no way to bring all of the interactivity of the energy fields that you have into contact with all the energies of the site.
Consider too, there are many factors that affect the state of the subtle energies: the weather, the proximity of celestial bodies, the time of year, of time of day, the living energies of plants and animals, the reaction of the guardian of the site to your presence. None of these things can be worked with in the same way back in the comfort of your house, or done from a representation of a sacred site (e.g. map dowsing). You simply have to be there to get the full experience.
Beyond the energetic field connections that you will miss, there are the synchronicities and additional sense information that you come across whilst visiting ancient sacred sites. The black dog that sits in your path, the crows that begin to make a racket when you move a stone, the sudden smell of a flower even when you're in a moorland setting, the wind rising up out of nowhere when you call it – these are not sense experiences that you can replicate from afar.
There are many times I have felt a call to visit a sacred site at times that are less than convenient. Wherever humanly possible I heed the call. No-one said this journey was going to be easy, or would not demand sacrifices of time and commitment. It is always a choice, but in the end Natural magick requires a natural setting.
The energies of the Eight-Fold Year
Druidic magick gains particular power if it is employed at specific times of the eight-fold year, when energies from the celestial conjunctions and positions add their energy into the mix. Recently I have found that only the Solstice and Equinox times actually have any energetic significance as days in themselves.
During the wheel of the year's round the male energy (which is Sun-based) rises and falls with the position of the Sun during the day, and over the course of the year. This means that the male energy is at its absolute strongest when the sun is shining at noon on the Summer Solstice. From that point it begins to fade away slowly, daily waning and waxing through night and day phases. At the Winter Solstice the male energy is at its weakest. This is a simple fact of the relative position of The Sun to The Earth – there's nothing too mystical about it, although it is difficult to track! Luckily the Megalith Builders have done most of this work for us at sacred sites like stone circles, which track and mark the positions of noteworthy celestial events.
Female energy is dependent upon the Moon for its condition, and so is strongest whenever the Moon is full. Of course, the Moon is always cycling around the Earth too, moving away and back towards the Earth over the course of a year. The female energy is thus strongest when the Moon is full on a clear night, and when it is at its apogee. I usually consult a Moon Calendar to anticipate such times.
Using these concepts it is rather easy to predict the likely relative strengths of the male and female energies on any given day or time of year, taking into account the weather conditions too. So much so, that I judge the times I should be doing my most important energy work to be either a Full Moon night, or one of the four Sun days of Spring and Autumn Equinox or Summer and Winter Solstice.
The four festival days of Imbolc, Beltane, Lammas and Samhain I have found are markers denoting the points from which it becomes more efficacious to work with energy in particular ways. In themselves they have no energetic characteristics, but instead distinguish the starting point for a phase of energy characteristics that lend themselves to particular tasks. For example, between Imbolc in February and Spring Equinox in March is a very suitable time to awaken the energies of the land by visiting sacred sites and interacting with them. This time period in particular suits re-awakening work, and one doesn't have to look too hard to take the cue from Nature that this is exactly what is going on all around you at this time in the land itself.
Gnostic versus divined information
There are many ways of appreciating places and times of power, but druidic methods of "being and seeing", i.e. opening up to all of the sensory information available, will bring great rewards. Dowsing has a role to play here too. Sometimes, when you are in the midst of a communion with Nature she can throw up a puzzling image, statement, or feeling that needs some assistance to decode. Dowsing can help here. It is possible (with great care always to check how much you are affecting the outcome) to ask questions about such interactions.
Dowsing does not respond well to questions that are not simple "yes" or "no" answers (ok – "maybe" is a valid response too sometimes), but you need to consider very carefully how to phrase your enquiries with dowsing rods to elicit anything more than more questions! However, with care and thought dowsing can take you further in your studies than leaving the riddling to chance, and can speed up your progress enormously, I have found.
Building an energy map
Dowsing offers the druid an insight into the fields and forces, and their relative strengths, in order to be able to gauge whether connection and thus gnosis is going to be more successful. Of course, your own personal state and power are also part of the equation.
Dowsing allows you to discover the lines and extent of the fields of energy that are normally closed to the senses, and which many druids simply rely upon intuition to determine for them. If you are not yet at the stage where you can sense energy and know its qualities, then dowsing offers the ability to not only delineate their direction, strength and quality, but also allows for a certain amount of confirmation that again reduces doubt, leading to a stronger druidic connection with Nature. One less thing to consider whilst meditating perhaps?
Having a concept of the layout of a sacred site or a sacred space can help you to identify potential problems with 'invasive' energies from elsewhere, to quickly tune into the state of a place, to know the best place to make contact with Nature, or to simply know which paths to walk around a site, or where to stand for a particular effect. For example, I visited Glastonbury at Summer Solstice last year with only a starting point in mind. When I got there I let the rods guide me to the right place to meditate. At those spots I visualised the next place to visit. Each place had a part to play in unlocking a chakra point in my body until I arrived at Glastonbury Tor on the second day and achieved what can only be described as a spiritual enlightenment. I was guided along this path by the dowsing rods and the druidic meditation process. Powerful stuff!
The ritual entrance and exit
A casual approach to a sacred site is fine, but it will bring about a casual response (or none at all) from the site itself. Finding an appropriate entrance, a sigil, a ritual path and an exit to a site will allow you to enter into a different relationship with the site. Finding an entrance brings about the opportunity to ask the guardian of the site (if there is one) for permission to enter via tracing a sigil's shape. Once such permission is obtained (and I leave that up to you to determine what such permission may be) then you are in a different relationship with the site from the outset.
Being invited into a site through an entrance suitable to you (one might even say, designed for you) moves you into a magical sphere of operation. Communion is easier, meaning is stronger, intent is rapidly communicated and understood, the atmosphere is more favourable generally. These are my findings by performing such entries. Similarly, if one exits by an appropriate point too then the connections are severed properly, and little work is required to "clean up" energetically afterwards. You are only left with the task of giving thanks at that stage.
Enter and exit appropriately and the forces within the site are all the more appreciative of your attention to detail.
Finding purpose at sacred sites
I have left the toughest topic for last. If you have followed me this far then you have doubtless been given several things to think about, some of which will have struck a chord with you, some will have annoyed you, others you will have dismissed, one or two you may have wondered what I am talking about. I understand, truly I do. You see, what is all this about, after all? "Energy work", "Natural Magick" and "Site guardians"? "Sigils"? "Sun and Moon alignments", "Power Centres" and "Gnosticism"?
This is only the start of it. What I have been discussing is how to open up the floodgates of a mystical and divine life path, along which you will find much more challenging things that simply dowsing with copper rods, or visiting sacred sites on a full moon to trouble your sleep patterns! It is only when you are some way down this path that you begin to define a form to the questions that relate to its purpose. For a long while you will be able to dodge this through sheer curiosity and wonder, but eventually the two worlds of dowsing and druidry are going to combine in such a way as to send you headlong into the philosophical questions that I hinted at right at the start: those tricky ontological, teleological and eschatological questions that we spend so much time working around, but not working on. "Why am I here?", "Who is answering me when I dowse?", "Is there anything else sentient out there?", "What is divinity and do I need to bother with it?", "Should I be the master of these energies or their servant?"
In the course of my studies on these subjects I have spent many hours contemplating just those questions, and the answers were forthcoming – then they stopped. Nature herself stopped doling out the ready-made answers. I realised that the only way I could continue to get a response from Nature was to stop asking for guidance, and to begin to define a purpose to this aimless wandering through her bountiful gardens. Through meditation, rational enquiry from the basics upwards, and through a desire to find my own path, I have finally found the crossing of the two streams: I have a purpose to this work, and the work serves my purpose. Good luck to you on your own path – I hope you find your purpose too.
Conclusion
I have discussed some of the possibilities of combining the arts of dowsing and natural magick, and I hope that you can see the benefits of doing so. Dowsing is a wonderful tool for discovery, for reassurance, for qualification and for opening up unconsidered possibilities. There are many things you will have read that you will have disagreed with, I am sure. I hope some things made you think about experimenting to validate their veracity. Please, take the information and take it further for yourself. That is why it is here. I have presented my latest current thinking, but this is not the only opinion, nor is it the correct opinion. It is my internally consistent opinion that I hold for now.
The results obtained from dowsing are entirely tailored to the individual. Correspondences can be found with other dowsers findings, of course, as there are many elements that are universal, but the aim should be to find out everything for yourself, rather than take anyone else's experiences or findings as definitive. We are engaged in a dynamic system (Nature) that is in constant flux, and unlike science we may not be dealing with absolute reproducible truths – rather relative and time-bound truths. Your relationship with Nature is, after all, YOUR relationship with Nature and no-one else's.
Dowsing, like all forms of divination, are filtered through a human mind and are therefore subject to the vagaries and distortions of your own experiences and knowledge to date. As a skill it is subject to the same imperfections and any other human activity, and is not subject to scientific scrutiny as it does not conform to its rigorous straight-jacket. Nevertheless, its ancient and universal adoption and application ought to tell you that there is a core of truth at its heart, even if that truth an never be revealed to everyone because their own mental constructs have limited the possibility of it. You are ultimately limited only by your ability to imagine the possibilities that dowsing can offer, just as you are in druidry.
It is much more important to understand the working of your own mind than to understand the workings of dowsing. No book can tell you this information. No book can teach you magic. No book can explain druidry. Books and web sites can only suggest possibilities to you. What is important with both druidry and dowsing is a willingness to explore the possibilities with an open inquisitive mind in search of understanding that is useful to you alone. To paraphrase Wittgenstein, "There is no objective truth. There is only that which is true enough for you."
Supplemented by constant learning and practice dowsing is a powerful, portable and reliable means of travelling further along the spiritual path towards your goals. How far you go with it is down to your own ability to imagine the possibilities, and in your commitment to furthering the relationship with The Other, and to developing yourself to align with Nature's flow.
References
Recommended Reading
My blog site – The Hedge Druid – contains a list of sacred sites visited (some with earth energy diagrams), an extensive bibliography, plus hundreds of posts discussing ancient site visits, dowsing in general, and druidic natural magick. A comprehensive list of reading material concerning the topics of dowsing, druidry and related areas of study can be found on the Bibliography page. Here is a shorter list of some recommended books on the subjects discussed in the seminar.
Dowsing resources
Working With Earth Energies – David Furlong (Piatkus) – The best paradigm for the cross-over between the world of energy working and the concepts of dowsing as a tool to assist that work.
Earth Energies– Serge Kahili King (Quest Books) – Tries to explain what the subtle energies might be by recounting the historical studies undertaken by various scientists. Nothing about the information is convincing, however, other than that something exists.
Spiritual Dowsing – Sig Lonegren (Gothic Image) – The beginner's guide to going beyond the obvious practicalities of dowsing and into the realms of human energy work.
Sacred Geography– Marko Pogacnik (Lindisfarne Press) – Pogacnik adds a third dimension to dowsing, making the forces of nature come alive in the world around us, even if his concepts are difficult to grasp or believe at first.
Patterns of the Past – Guy Underwood (Abacus) – one of the first to make the bridge between a scholarly approach and a common touch in his explanations of the phenomenon.
The View over Atlantis – John Mitchell (Abacus)- a classic of the genre. The book which linked sacred geometry, ley lines, earth energies and history together.
Geopathic Stress & Subtle Energy – Jane Thurnell-Read (Life Work Potential) – a good introduction to the concepts of how the earth's electromagnetic fields can interact with the human body, sometimes to detrimental effect.
Druidry Resources
The Book Of English Magic– Philip Carr-Gomm & Richard Heygate (John Murray Publishing) – happily they did not leave one single element out of this study, and consequently dowsing takes its rightful place as a valid means of magical enquiry beyond being a simple divination tool.
Living Druidry– Emma Restall-Orr (Piatkus) – for her ability to vividly describe the concept of the nemeton field or aura that surround each living thing.
The Healing Energies of Trees– Patrice Bouchardon (Journey Editions) – puts into pictures what many people have struggled to express in words. A simple, clear book with stunning visual impact.
Walkers Between The Worlds – Caitlin and John Matthews (Inner Traditions) – learned, erudite, yet practical information on some basic concepts of getting in tune with the magical Natural world that druidry extols.
Useful Web Pages
http://www.leyman.demo.co.uk – David R.Cowan's site which goes into some detail about ley lines, geopathic stress and death energies. His books are even more interesting.
http://www.megalithic.co.uk – details of the location and status of sacred sites, and very comprehensive.
======================================================
Dowsing and Druidry: The Esoteric Dimension
Introduction
This article is a follow-up to my discussion of the concepts of combining dowsing with druidry. The previous article can be read on the Articles page. I consider this essay to be the 'glue', if you like, that brings the practical fundamentals expressed in the previous article together with the esoteric concepts that are suffused through that work.
In this article I will take you through some of the mental and spiritual concepts that are common to the disciplines of both druidry and divining. These concepts are less about the practicalities of how dowsing can help your druidry, and more about the qualities that the two disciplines share – their common principles. It is my hope that you will easily see how the two concepts intertwine. What will emerge is their common platform. I have designated the common ground as 'crossing points' because they are the concepts that bring druidry, dowsing and many other esoteric disciplines together.
What is this term "esoteric"? When I talk of the esoteric I refer to the conceptual elements of the work, it's ideas, its intangible qualities, its more spiritual aspects. In the previous article "Where Paths Cross" I talked about the practical and physical commonalities between the two disciplines. In this seminar I will be dealing with the way in which those crossing points are in fact points of confluence where ideas gather together to form epiphanies, and the mind can move forward having established an understanding upon which further progress can be made towards full understanding, or enlightenment for want of a better term.
In a way I will be using dowsing as a metaphor in this discussion. I will also be assuming that you want to make some kind of spiritual progress, and have some intellectual curiosity. I even hope you may be open to ideas because I will be attempting to demonstrate that the principles that allow a dowser to operate effectively are also the same principles that allow a druid to progress spiritually. There may be some "sloganeering" and "intellectualisity", along with a requirement to accept made-up words…. You may be badgered and hectored – that's not as painful as it may initially sound, but it is a disgusting ritual that the pagan community ought to outlaw very soon. Viewers of a nervous disposition or who are feeling frail and delicate may wish to consider this escape point, because we're about to get serious.
The First Crossing: Gnostic Knowledge
Dowsing has been used for a long time, since before history was recorded, The remains we have, the sacred sites and timber circles that are scattered across our lands, they show an amazing level of astronomical knowledge, to say nothing of the masonry skills, the transportation and the building skills. How was the knowledge of how to do this acquired? My answer is simply – gnosis.
So what is gnosis? Gnosis is simply the concept that knowledge can be obtained by insight into the divine, an intuitive understanding, a knowing that insists itself upon one who contemplates things whilst in communion with the fundamental forces of the universe. It is a means of acquiring understanding without going through a long-term process of analysis, rational discourse and a dualistic disintegration of the object being scrutinized.
To make use of gnosis one has to simultaneously be free of thought and therefore receptive, yet must employ a focus of attention on the objective at hand. Inherently then, gnosis involves the ability to work with two completely disparate concepts at the same time – to be open and focused, to be attentive but relaxed. It is the apprehension of the paradoxical, the cognition of the inconsistent, a balancing of beliefs.
The gnostic mind is the very same mindset required for dowsing, and it is the mind that we still see being displayed within the world's remaining tribal communities. Here they practice 'deviceless dowsing' – dowsing without implements, operating by intuition to find places, people, animals, energy, water – whatever they need. These tribes find such things only when they tune into the vibration of the world around them, when they listen to the land and by using the 'divining mind' to guide them. The tribal shaman or his equivalent uses gnosis to locate food and water for his tribe; it is used to find the places of power at which to meditate in order to commune with the ancestors or deities; such a skill can also look outside of time in order to make better decisions.
All of these tasks require the skill of gnosis as a core element of that activity. We have a remainder of this in the tracking skills of the remaining African tribesman, who just happens to know which way to go to find the herd, and how to locate the water holes that sustain the hunting trips. It was knowledge that could mean the difference between success and failure, between life and death, between glory and humiliation. We see it reflected in the myths and stories that we druids prize from our own ancestors in the Western civilizations.
What does this tell us about the modern druid, though? It tells us that at the heart of human potential there is an ability to make a connection with Nature, to utilise some higher functions of the human mind, and to draw down through that connection some knowledge – some 'special' knowledge. Special in the sense of "difficult to acquire", "impossible to know" even; a knowledge that may be ancestral, instinctive, or ancient, but could equally be futuristic, novel and life-changing. Knowledge seemingly plucked from the very flow of existence outside of time – from the global Collective Unconscious, from the Flow Of The Universe, or from another world – The Otherworld.
Whatever you are using dowsing for, whether it be for divination, to find a lost object, to follow a trail, or to learn something currently not known, dowsing is forming a bridge between your consciousness to a source of knowledge that is beyond your usual capacity to access. It is a Gnostic act performed in a trance state, and as such it has many of the qualities you may recognise from your work in druidry – communing, ancestor worship, the appreciation of Nature's energies and forces, its cycle of the seasons, time, space, and magic.
Once we become aware that there is a source of knowledge "out there" somewhere that we can gain access to, it's like re-discovering ourselves. It's like being re-born. The world seems suddenly more mystical and incomprehensible, yet knowable in a new way. Yes, the scientists are smashing atoms apart and telling us how they think the universe began in the first few seconds of its existence, but once you access the storehouse of knowledge in The Otherworld, you've opened up Pandora's Box and things are never the same again. You can know things for yourself – you can just… know.
This is our first crossing point: Gnosis forms a bridge to the Otherworld.
The Second Crossing: Trust
There is no way to differentiate between the need to check the veracity of one's spiritual progress from the actual progress itself. Verification is part and parcel of the move into the unknown that takes place when you cross over the boundary line from your safe world into a world where you are unsure of the rules, unsure of the participants, and uncertain about the outcome of being in what I will term The Otherworld.
The Otherworld is the other dimension of thought – the dream-like archetypically-decorated mind-space that exists within you , without you, through you and beyond you. Just take a moment to orient yourself to those co-ordinates before you continue!
When you first make that connection to The Other, to another world, you feel a bit lost. You may come back and begin to doubt how you managed to obtain the knowledge. Was it a fluke? Coincidence? Something "made up"? Something inexplicable but ultimately unrepeatable? Doubt begins to creep back in. This is a genuine issue when first starting out on any spiritual path, or working with any ancient knowledge or skill. In the modern world these skills lack the empirical evidence to back them up, after all – there's never been a successful dowsing test – James Randi or Richard Dawkins have demonstrated that with their "catapsi" testing environments. [definition for 'catapsi' –http://www.experiencefestival.com/catapsi]
The quintessence of doubt is something felt by both dowsers and druids. That "What am I getting myself into here?" feeling. At the heart of the issue is Trust. To what extent can you trust this source of knowledge? Can you ever trust yourself to not delude yourself? Can you trust an "other" whom you don't (or I would say can't) comprehend their intentions towards you? Those intentions towards you can be reconciled, but only through a development of trust over time.
One of the major unhelpful influences when divining is the interference of the rational faculties. Many times the outcome or response is predicted by reason or convention, and bound by cultural expectation and conditioning, which leads either to a rejection of the information or its obfuscation. Often there is a confused interpretation of the response when the rational contradicts the intuited. It just doesn't make rational sense that one should be able to access this higher information source, this Otherworld, and reliance upon it is therefore jeopardised due to a lack of trust in the source.
Intuition is at the core of this trust issue. When one starts to develop an intuitive sense by allowing life decisions to be based upon trusting that immediate response, more often than not, in the early stages of development of intuition the rational mind overrides the intuited decision. The mind does not have a store of trust to draw from.One has to learn to trust in the answer – the answer is as presented, not what you shape that answer to be afterwards. Trusting your intuition is like sculpting clay blindfolded.
When you start out with a new search for knowledge, if you can't get the answer you're looking for it leads you to give up on it, or to denounce it as 'flaky', or a product purely of your own mind. You have to learn to overcome this and persevere with your development because your intuitive mind is more capable than your reason! I once tried to dowse the lottery numbers early on in my dowsing career – I got none right. Years later I tried again, reasoning that I was a better dowser. I got one number, and now I KNEW the other numbers were wrong, even before they appeared, but that still didn't mean I could dowse for all six winning lottery numbers – it just meant that I could tell when I the response was correct. The dowsing wouldn't give any other response except the wrong ones! I had to learn to trust that winning the lottery was not on my spiritual path, and not something that I could force to happen through dowsing. A harsh but valuable lesson in the reality of gnosis, spirituality and dowsing!
The second crossing point: Trust opens the door to genuine knowledge.
The Third Crossing: Belief
In order to make dowsing work for you it is necessary to suspend disbelief – to cross the sceptical boundary – and this is the same for druidry. It is necessary to gain self-belief in what you are doing. Ridicule and scepticism from other people can be damaging to one's ego, but this is not about ego. It's about mystery, and no-one can question your access to the mysteries of life – they are yours, but they require belief to sustain and nourish them.
Sacrifice is an essential component. In a way one has to sacrifice an inherent scepticism that has built up over time through exposure to ridicule. By believing in anything one sacrifices a certain ability to shield oneself from criticism, yet one needs a level of commitment and confidence in order to make such a sacrifice. Attempts to work druidically, or with dowsing, will not provide rewards until such a sacrifice is made of reason. This is NOT to lose ALL reason, but to lose the attitude that "I know best as a human" in favour of "I am open to whatever information comes my way from wherever, THEN I will analyse it later to determine how useful it is FOR ME." That's a longer aphorism, for sure, but it is much more accurate! Do you see the receptive quality of that statement? You are a receiver, not a crafter. The craft come after the inspiration.
It takes a certain amount of self-belief, of bravery to stand up in the face of all those who have never experienced what you have experienced, and to say to them – "Your belief is not mine. I believe what I believe because my experiences inform that belief." It is an unwise undertaking to try to back up your beliefs without a repository of gnostic knowledge, without having established trust , and without being prepared to sacrifice some of the things you once clung dearly to. Only by having gone through those experiences and having opened new channels can one gain the certainty of belief.
If there's one thing that Science has usefully taught the spiritual pilgrim it is that our model of the universe it simply less wrong as we acquire knowledge, but it is always incomplete. Trust, and bravely admit that your model will appear flawed to everyone else, then continue to acquire knowledge to build your own unique perspective based upon a body of direct experience.
The third crossing point: Belief is built first on trust, then on bravery.
The Fourth Crossing: Connectivity
Having done the groundwork to build up a repository of experiences (even thought they may still be tagged 'inexplicable'), then to have established a trust relationship with this font of knowledge, one then has to make some progress towards enlarging and affirming that connection. What I mean is, it's fine to dabble in having experiences of a supernatural kind, say you dowse a little or speak to a tree once a year, but if you're going to really make this part of your life then the next stage is to open up the channels of communication fully, in a trusting fashion, and reach out to the Otherworld to begin to make connections.
Connectivity is at the heart of both druidry and dowsing, In order to find anything interesting or to gain insight into new areas of knowledge the dowsing method requires a connection between the dowser and the dowsed. As druids we aim to develop a working relationship with Nature in order to form a two-way communication between our divine sense and our sense of the divine. We take our bravery, our belief, our trust and our desire for new learning experiences, and we place them open to the connections that will feed those channels with gnostic knowledge and deeper, more regular experiences.
For communication you need meditation. Only meditation affords the necessary mindfulness combined with the essential silent space that allows connectivity to these Otherworldly resources to happen. Stilling the mind leaves the pathways to deep connection clear and prevents distraction – remember that 'focus whilst relaxed' concept I mentioned earlier? This is where it becomes essential and deeply meaningful.
Dowsing is the perfect tool for location and confirmation. It's binary 'yes/no' format and 'x marks the spot' capabilities make it the perfect tool for locating the best places to meditate and the best times to do so. It is also able to work through lists of possibilities to determine the most suitable answer for you, or to determine what is true about a subject.
Here are some examples of types of questions that dowsing can be applied to:-
Find a beneficial location, e.g. "Find the best place to meditate nearby" – then follow some dowsing rods until they cross.
Choose a suitable date for working, e.g. 'Is this the best day to perform this meditation/ritual?' If not, 'Which month/day is the best astrologically?'
Determine the strength of energy, e.g. "What strength are the energies at this place on a scale of 1-10, 1 being the weakest and 10 being the strongest?'
Find a suitable entity to work with, e.g. "'Are there any sentient entities present at this place that will work with me?"' Yes or no.
You can see that dowsing allows you to go into a situation with some prior knowledge and thus allows you to prepare. It can even warn you when you should not engage with particular places or entities because it would not be to your benefit. You can see that without some form of intuitive or divinitory capability there is every chance you will sit in a stone circle that isn't good for you, on a day that has no useful energy, placing offerings to an entity that is not there!
The list could go on for several pages of the types of esoteric questioning that can take place once the channels to the dowsing mind have been opened, and the speed and quality of the druidry work that is then performed are quite remarkable. It doesn't take much work subsequently to research the answers to these questions a bit more and to begin to build a repository of useful information. For example, the last three times I have asked when was a good time for me to work I have noticed that the moon is full and Mars is in the sky. Or, every time I go to a forest the dowsing rods lead me to the same tree as the best place to meditate. Perhaps you find that you work really well with a spirit of a particular location. The list will have endless permutations, and will always be personal to you. There are few rules. You simply have to experiment for yourself to find out what your own boundaries of possibility are, and don't be limited by anything that has gone before – make up your own types of questions to suit your particular needs, and make up the rules for how the answers should arrive too. What rules there are, are your rules!
When dowsing I try to visit places where the earth energies are strongest and most active. These can be ancient sites such as stone circles, long barrows, dolmens and even ancient trees. When I am in these places I am seeking the numinous, the Otherworldly, the sentient entity, the deep knowledge of Nature's ebb and flow. Without making this contact with Nature's forces then what purpose does a visit to a sacred place serve? Such a journey would be purely selfish and is unlikely to feed spiritual progress. You would simply become another tourist.
The fourth crossing point: Dowsing inspires the confidence to connect to the Otherworld.
The Fifth Crossing: Relationship
Having made a crossing to The Otherworld, the world of information beyond your five senses, what can you expect to find there? What you might not expect, but which you will inevitably find, is a sentient intelligence. However you wish to name or classify that intelligence, it exists. There are so many stories, tales, myths, legends and experiences that can be told about this that we have developed entire religious systems on the basis of it. Most people, at some point in their lives, encounter it. Most dismiss it, or simply store the experience to be filed under "inexplicable".
One of the first dilemmas encountered when one thinks about how dowsing could work, or how communing works, is "Who is answering these questions?". I have found that the safest resolution to that, one that will not drive you insane, is to simply say,"Nature" and leave it at that. "Nature" is so difficult to define that it actually helps to leave it that obviously omniscient but impossible to define. It doesn't really matter how you identify this force – it might be you, your "higher self", or some vast repository of information, Akashic Records, The Global Unconscious, some Jungian archetype, God, any of the gods, a force of Nature, or any other subdivision that you care to make. Honestly, it doesn't matter except to your way of accepting it.
The more important question to make progress is "How reliable is the information?". That's where it becomes essential to develop a relationship with this Other force. Irrespective of what you understand that force or source to be you should make a sober pact with it that you will not attempt to cheat or trick it, and it should work with you in the same manner – a relationship of mutual sober respect. You must agree to use the knowledge for only the most noble purposes, for spiritual progress not for material gain. Your gain comes from your spiritual progression in the course of your work, not from the wielding of the powers available to you as a druid or dowser. I know this sound moralistic, but I have tried getting around it (see the earlier Lottery results episodes). It's some kind of Cosmic Law. Try it out for yourself, of course, but don't waste too much time on it.
The stronger the element of TRUST and respect for the power of the Other the more purposeful and useful the information and the experience becomes. Trust is an aspect of forming a meaningful relationship with The Other. In return for trust the relationship blooms and the flow of information is stronger and more…emotional and meaningful. That's the best I can describe it.
Having a 'path' (i.e. aligning oneself to a life purpose) makes the whole exercise of either dowsing or druidry purposeful, and opens up other aspects such as what Paul Devereux calls "the animistic mental model", e.g. acquiring knowledge from listening and talking to Nature. The path is therefore a quest, and the tools of divination and druidry become a means to progress along that cryptic path. "Cryptic" because no matter which tools are chosen they way is never illuminated all at once, instead it is a steady progression at a pace that you can cope with. We are gently guided along our course in harmony with the Flow of the Universe. With this deep connection life becomes easy, druidry becomes a lifestyle and ceases to be an interest, dowsing becomes a tool for higher wisdom and not a quirky hobby.
Dowsing can help us to interpret the responses of the sentient forces we meet along The Path. I have had many experiences where Nature has informed me of the next steps in the form of a riddle. Dowsing has always been a part of the tool set that I use to understand those responses, to answer peripheral questions that home in on the eventual answers to these riddles. Its divination capability is a minor form of revealing and enlightenment within itself, and indeed many people through history have been perfectly happy with this much from it.
The fifth crossing point: Our true spiritual pathway can be found in the relationship we establish with Nature.
Conclusion
In conclusion I will list of the ways in which I think dowsing can substantially improve your spiritual work. Here are some good reasons why dowsing can assist with the work of druidry:-
Dowsing helps you gain an understanding of the workings of Nature – the energies of trees, at ancient monuments, sacred sites and spaces, the flow of earthly and human energies
Dowsing acts as a guide on your spiritual journey – answering questions to show you the right way, leading you down paths, creating opportunities, making you question things rather than accept other people's ideas
Dowsing can literally lead you to places and to find things that you would never otherwise have encountered
Dowsing enhances one's ability to trust intuition, thereby developing that faculty through information, affirmation and confirmation.
Dowsing informs your magical work by ensuring that you perform when you and your surroundings are at their most energetic to increase the probabilities of your work succeeding.
There comes a point in working with any tool when intuition has been sufficiently developed, and Otherworldly relationships have been firmly established, and one begins to simply feel the energies of the planet, the rhythms and directions of the universe's flow. At this point I would say that it is time to dispense with tools, and to use the body as the instrument of dowsing. At this advanced stage one has become a true master of energy work, and druidry becomes a life's work. How I live for those moments!
=============================================
Next steps
If you have come to the end of this seminar and are now intrigued and want to begin to experiment with some of the ideas that I have been talking about, then here are some resources that you can use to get you going. These are only my personal favourites, there are many more books covering these subjects, many with completely different theories in them concerning dowsing, druidry and magic.
1. Learning to dowse
Most people can learn to dowse within ten or fifteen minutes. Seriously! It's just a question of understanding the basics, and then experimenting with some of the concepts I have been discussing.
Here is a page explaining the history of dowsing [http://www.bbc.co.uk/dna/h2g2/A3373175]
The British Society of Dowsers also hold regular courses on how to dowse [http://www.britishdowsers.org/learning/bsd_organised_events.shtml]
2. Dowsing theories
"Ley Lines and Earth Energies" by David Cowan
"Spiritual Dowsing" by Sig Lonegren
"Needles of Stone" by Tom Graves
3. Earth Energies
"Healing Through Earth Energies" by Julie Jacka
"Earth Energies" by David Furlong
"Earth Energies" by Serge Kahili King
4. Natural Magick
"Real Magic" by Isaac Bonewits
"The Druid Magic Handbook" – John Michael Greer
I hope you have enjoyed this article, and that it has raised some points of interest for you, and suggested some aspects that you may still not have explored yet in your own spiritual path.
May your path wind, and your rods follow.
Gwas.
==============================================
"Waymarkers on the True Path": a guide to progression
As I have progressed (and I do feel I have progressed) along the path of my lone druidic course of learning I have noticed a few "waymarkers" that were, for me, points where I could say that marked a change, a leaping off point, into new modes of thinking and feeling about the world.
As Terence McKenna would no doubt say, I had begun to "dissolve boudaries", to overcome the barriers that I had put in place for myself in my acceptance of the "dominator" ego-driven culture and its insistance upon easily recognised divisions. Male & female, black & white, science & fantasy, true & false, legal & illegal, rational & irrational – all those and all the rest. Having had experiences with boundary dissolving chemicals, and a lifetime's interest in the anomolous curiosities of life, I was no longer prepared to accept this world view.
Looking back, I had slowly started to rebel against all that over a period of a few years – crawling towards some unidentified attractor that was pulling me back to a path that I felt was right at every stage.
As I was saying, this retrospective hurtled faster and faster towards revelations which kept me turning the pages of this new life textbook, and I think I may be at a stage now where I can list the stages I have been through (and am still going through) that got me to the point where I would write about it – that cleared the ground for me to see the pathway I needed to tread.
There is a sort of chronological dependency and order about these stages. I am not the one to prescribe that you take any interest in that. I may only be making a note that it happened in this order. And that it happened.
The Path Defined
1. Remarking upon coincidences
Such a simple thing to start with! There is no commitment required at this stage to change anything about your life. It's a safe and easy option. However, it does have its dangers (as with any life change). If you have an addictive nature, or a voracious appetite for learning, it is easy to slip into a mode where you begin to see coincidences in things that are really not presenting themselves for that reason. This is how conspiracy web sites come about.
The method is simple. Really. When you see or hear something that makes you go "Ooh – that was odd!" you make a note of it. You simply accept it. You don't try to reason it out of existence ("what are the odds….?"), and you don't try to explain it ("well, that was bound to happen because…."). You just notice it. You pay it attention, and you don't dismiss it. That's all! Simple as that. Maybe it makes you smile? Then you know you've accepted it. What kinds of things? You might go to the phone to make a call to someone, and as you go to pick it up – they ring. You might dream about wearing an indian feathered headdress, and then find a feather outside your door the next morning. Anything could happen (and frequently does). Notice it. Was that you who made that happen, or something else, or the two things together?
What you've just accepted is that you don't know everything. You can't control everything. Stand on a mountain top in a gale – how big and in control do you feel now? By noticing coincidence you have caught a glimpse of a more connected and directed world than you have allowed youself to think of before. Allow yourself to consider the possibility. See where it takes you!
A note about studying coincidences
We all want to believe we are right, and that we won't be conned easily. The information available to us is almost overwhelming, and should be read in the round – not filtered to a fine sliver which ties you to any one topic. Let's face it – there are enthusiasts for any and everything! On the druid path, balance is the guide. Read widely. Learn which sources of information to trust because they are balanced and fair. Or before long you will be seeing conspiracies in everything, and trusting nothing, and then you are adrift and alone, my friends. I am not saying don't follow conspiracy theories – believe me, I keep a close eye on the news that The News never tells you, and I watch those watching us. What I DON'T do is spend all my time tracking down and cross-referencing every piece of information about such topics – it's endless – it's a Herculean task that often leads you nowhere excpet in circles. Read quickly – read wisely, that's all I am saying.
2. Trusting intuitive responses
The path begins to get a little harder, because before you can trust your intuition you have to accept that such responses are valid. You may go through a process of doubting your intuitive response – in fact, I would be very surprised if you didn't! It's not easy to do at first because our culture rarely values such responses – they are too fast to have been really thought about, or they were not the expected answers, or they lead you in a direction that you didn't think you wanted to go in, or had never considered before. Welcome to the new!
The method I employed to gain trust in such answers was to try to switch off that bit of my brain the wanted to intervene, and which was always trying to kick-start an afterthought, to consider what I had just intuitively responded with, whether that be repulsion, joy, amusement, a witty quip, a gem of wisdom I didn't know I possessed – it can be many types of response to many types of stimuli. But the first thing you think, feel or say is your intuitive response. Acknowledge it firstly, then try not to over-engineer your follow up responses – dampen down that "nay-saying" doubting element. Overrule the "but you can't" jurisprudence element of your brain. Let the response speak for itself, and learn to back it up with conviction and confidence. That will come as it manages to mysteriously work something out for you, and you retrospectively work out that it came from your intuitive response, and not through any clever decision-making by your rational side. There's a good book about this by Malcolm Gladwell called "Blink". Worth a read.
Sometimes the intuitive response will embarrass you. If you look back on your life so far, you're no stranger to embarrassment! You are allowed to respond internally, notice it, validate it as your true expression, and then respond as you see fit. However, you will be much happier with yourself if you don't overrule your intuition. It is working for you, not against you! It's not trying to trick you! It's YOU. The sooner that is accepted, the easier it all becomes.
As you allow this transition to occur, moving from the hiding of your true responses to the elucidation of them, you will feel yourself start to change – your "attitude", as recognised by other people particularly, will be changing. You may find yourself more accepting of everyone's right to individuality, and less condemning of those who express themselves fully. You might even sit next to the nutter on the bus. Next week it might be you! Only kidding 😉 Keep a grip!
3. Spotting and obeying the signs
Now we stray into the realms of what might be described as "New Age". Oh no! Don't stop reading yet! Trust. As this path progresses you will know more and more that it is "right" on every sense of the word. So, here's the next stage as I see it. Remember how you've been spotting coincidences? Did you see many? Loads. Here's the tricky bit to get your head around – the ones that only you noticed and participated in – they were for you.
So, what do you do with them? How do you interpret them? You need some help, even though they are only there for you to interpret in your own way and to your own extent. It's down to you what you do with them – ignore them, laugh at them, be scared by them, puzzle over them. This is where intuition, and later communing, comes into play. If you've had sufficient proof that everything you've done so far is the right thing to do, then you've already developed a means to trust that you will know what to do with the signs and how to interpret them.
What do I mean by "interpret"? You are essentially following a plan of change, change for the better. The signs are a guide to the next step, the ship's course, if you like. By "signs" I don't mean anything that suggests you need to be able to see the future – they're not omens, portents or premonitions. They're immediate. They're telling you about how to direct your thoughts and actions – essentially your energies.
Oh yes, philosophical and ontoligical questions begin to arise! "Who is guiding me?". "Why am I being guided?". "Am I doing this for myself, or is some other force doing it?". You have to think about that one. You may toy with many opinions, but all I can suggest is to not make any decisions at this stage. You just don't have to! Being IN the process is enough. INTERACTING is all you have to do. FOLLOWING is what you should be doing. Sorry for the emphatic statements there – but it's the important bit.
To follow is, however, to obey. You may have spent your life refusing to bow before authority, to rebel , to swim against The Flow, and all those good things. Maybe so. I know I have tried those things, and still do. However, when you understand that patterns are bound by fractal geometry, that things are created, flourish and are destroyed – when you begin to experience nature's rules in the raw through your druidic experiences – then you see the life force at work. That same life force is running through you as though all things – seen and unseen, heard or unheard, felt or not. The cycles all run on in their spirals, thei lines, their angles and curves. The energies are constantly in flow whether you are tuning into them or not. The choice is yours, as to whether you "go with the flow", fight against it, or try to ignore it.
What is a sign, and how can it be interpreted? Well, a sign is subject to the same problems as noticing coincidences. In my limited experience it was something unexpected but undeniable – it was a stone. Not just any stone, but an incongruous stone, hand sized, nestled lightly on a patch of grass on a trail that only the dowsing rods were picking up. What made it unusual was that it was obviously a smooth rock from a beach smewhere, but here it was, right in my path along an energy line in a forest! Even I could see that I should pick it up. And that seems to have been the appropriate response, because that stone has helped me to discover a method of interacting with earth energies that I would never have rationaled conceived of.
Signs are often hard to differentiate from the "noise" of life's continuous imagery. It is difficult to stop their significance from being dismissed as nothing worthwhile, and you often feel like such a fool for spending time thinking about something that may be "nothing". The only solace I can offer is that once you are free of the worst impositions of embarrassment, it gets easier to respond to them and appreciate them. Standing in a park watching a pigeon intently can get some unusual stares, so consider your situation to see whether you can deal with it there and then, or whether you may have to pass on this one.
Again I sound the warning of becoming fixated on this stage and seeing every little thing as a sign. Signs have only made themselves known to me when I was accepting of their potential, and usually engaged in actively promoting their appearance. Everything else I ignore unless it shrieks at me, and that keeps the sanity levels stable! It's the same warning as noticing coincidences – it serves a purpose and can be used to help you, but don't overdo it! So far, repurcussions for me have been deserving and fitting, but as with anything, if you push it too far you'll come a cropper. Everyone has to fall off their bike to learn that riding is a skill that must be developed.
4. Dowsing – formulating questions, trusting answers
The way the egg cracked, the day I let the life force flow through me in a conscious way, was through dowsing. Dowsing a method of opening up to the realisation that other forces are at play on this planet than we are normally tuned to be aware of. It also develops your ability to formulate ideas more rigorously by making you ask questions that ensure the answers you receive can be interpreted reliably. One of the biggest hurdles with this activity – of simply holding two bent rods of metal in a sensitive manner – is the potential to really get yourself confused because your question had multiple, possibly contradictory, answers. It's as straightforward as, you ask a sensible answerable question, and the rods can indicate an answer. No magic. No ritual. Just a response. For a clear and concise discussion of dowsing I highly recommend Sig Lonegren's book "Spiritual Dowsing". It sounds like a corny title, but the material within is convincing because you can verify every single element of it yourself.
Dowsing brings you into contact with flows of energy, of various types and strengths. You begin to develop a sense of "feel" from practising it. It also gives you very positive feedback which is immediate and often irrefutible, which is comforting to the person still struggling with whether to allow themselves to interact with nature in that way and to such a degree.
Other pursuits offer similar potential for development of such a "lowering of the barriers". I can think of meditation, yoga, chinese qigong, the softer martial arts like 'tai chi', 'feng shui' – many ways. You will choose the one that fits your needs and which feels right for this time. It may even be helpful to learn to quickly dismiss things which don't feel right. Your intuition and your conscience play their parts here as wise counsel.
For me dowsing provoked an interest in ancient sites, their purpose and powers, and led me to ask more meaningful questions to receive more meaningful answers. Dowsing engenders sensitivity and trust; it opens you up to a world that is more alive than you imagined.
5. Communing
In turn, this may prompt you to want to develop a relationship with the world of energies from whcih you both may prosper, but which is ultimately satisfying on a deep level which puts you in touch with your soul, and with something infinitely more complex than we are taught to believe. Yet it is also sublimely beautiful and simple – it works to rules, even if those rules evolve just as we do.
By this stage attunement is more a question of practise than of belief. What is possible beyond this point I have only just started to imagine. Trying things out, feeling your way, taking steps and jumps. Eureka moments become more commonplace, and day-dreaming intensifies as you become attuned to 'zoning out'. It's all good information, and it usually pieces together into a more cohesive picture.
Occasional failures no longer cause a state of dejection and confusion, but rather they can be recognised as an opportunity to step back and change direction – often with the intervention of a sign pointing to a new direction. Failure to get an understandable answer can be met with good cheer in the face of what must be the 'Cosmic Giggle' having its fun. You have your fun too – fair play!
The method for this stage is to meet the forces of nature with humility, but a sense of humour too. It's helpful to be able to have a laugh at yourself, and with Nature too. She likes a bit of fun, but don't push it to ridicule, or she might just skap you int he face with a twig when you least expect it!
Once you have this kind of attitude it is possible to begin to commune. I have tried to do this without knowing all this stuff, and it simply doesn't work. You can feel empathic radiations quite easily – a lot of people do – but talking to Nature is a whole other level! We return to that 'overcoming embrassment' thing.
What is the purpose of communing? All I can say is that it is a further deepening of a relationship, an interaction, with Nature and its life force. The experience can be enlightening, informative, puzzling, unbelievable. It is all those things, but mainly it is an opportunity to learn from another source previously neglected. You won't know what you don't know until you go looking for answers.
6. Other stages
I am sure there are further levels up this spiral of knowledge that I can't yet see from where I am. I haven't felt capable of saying anything about some topics that I feel sure must follow: psychedelics, astral travel, astrology, natural magick. There are many things I know I don't know much about. As I learn, I will endevour to pass something on.
Conclusion:
At this point you may, rightfully, consider whether I am a fitting person to be dispensing this kind of material. I am a self-confessed recent convert. Yet I am certain my training has been much longer than I have imagined. When I think back to all the moments in my life when I truly experienced being alive, they all add up to a slow movement towards this point.
The information I have communicated to you has only got value if it means something to you, at this time in your life, at this stage of your development, at this place on your journey. Perhaps you might store it away. Or judge it to be of no interest to you right now. We all do that. We are often called upon to make value judgements about opinions. But I hope you are not just scanning – rather you are seeking. If so, I hope you take something away with you that improves your ability to realise your potential.
I'm no magician, no seer, and no pontificate. I simply want to offer my findings to you in the spirit of an anonymous fellowship. You are not alone – we are all together.
***********************************************************************
A response to a post on the British Society of Dowsers forum concerning the nature of earth energies.
ORIGINAL POST:
"I have been wandering about ancient sites for the last three years, constantly finding more and more.
I have put aprox 3,000 posts on the megalithic portal as cropredy, and nearly as many on crop circleconnector.
I knew many things in an instant, by going back to the spot where that occured , I can understand somewhat what occured to me.
I find a matrix, a matrix of neutral nature, it acts as a carrier lattice framework for a duality of variant resonant frequencies.
Imo, the megalithic sites were built to interact with this matrix, as it provides the interface between dimensions of different geometry.
We exist in 3D, but are part of 4D, the sites reflect the geometry, and it is all to fibonacci sequence, where typically a ratio of adjoining vector points will be to 55/34 ratio, those are the high concentration points such as avebury , Glastonbury tor, etc, etc.
The duality is opposite spin , and they form DNA spirals and twine together as lovers, they are mirror faced internally, and creation and dissolvement are released and entrapped inside the mirror like strands releasing between dimensions.
The typical barrow would have been covered in alternate layers of organic and inorganic materials ala wilhelm reichs orgone accumulators, and the massive mass of stones acting as resonant accumulators, we now only view remnants of a past knowledge.
the henges, and I include all so called hill forts are to seperate and re-distribute the two flows, the stone circles are later additions in this manipulation.

kevin"
RESPONSE:
"Hey thanks Kevin,
Nice to meet someone who can have a meaningful discussion about this. I really appreciate your pertinent and plentiful discourse on this subject. I have to agree with almost every single element of what you have said. I have started my own investigations off from the ground up, from first principles, and have reached most of the same conclusions as yourself.
I will take each of your statements in turn and show you how they relate to my own thinking on this so that you can compare. Hopefully we can stimulate further discussion about this, as I think this has to be one of the primary questions that motivates us all to work harder to understand these phenomena.
1. "I have put approx 3,000 posts on the megalithic portal as cropredy, and nearly as many on crop circleconnector."
That's what I'm talking about – that's a fantastic achievement in spreading the knowledge and hopefully sparking people's imaginations off so that they re-engage with the world around them and expand their thought processes. A worthy work you have achieved there.
I have found The Megalithic Portal (http://www.megalithic.co.uk) to be an invaluable resource and would recommend it to anyone who needs to plan their ancient site visits. Although their mapping system could do with integrating into something sharper like Google Maps, or Multimap.
CropCircleConnector (http://www.cropcircleconnector.co.uk) is seemingly one of the few genuinely interested crop circle sites I have come across. If you haven't read it already I would recommend Lucy Pringle's book "Crop Circles" – she makes interesting correlations with the dowsing, geometric and spiritual elements of the circles.
2. "I find a matrix, a matrix of neutral nature, it acts as a carrier lattice framework for a duality of variant resonant frequencies."
As do Kal and I. The neutral energy seems to form the structural grid and cardinal alignment aspects of the underlying sub-strata of energy throughout and across the sites. I suspect this is the Hartmann Grid that we are finding. The "variant resonant frequencies" you speak of seem to have qualities that reflect the vitality of the energy flows (and hence the site) and can be affected by environmental pollution, especially electricity power lines and chemical pollution sources.
3. "the megalithic sites were built to interact with this matrix, as it provides the interface between dimensions of different geometry"
One element missing in that statement – US! WE provide the interface that interacts via the sacred sites. Undoubtedly we tune into the existing energy sources of the site (the earth, the sun, the moon the stars), but we also bring the potential to generate energies (thought forms, intentions, feelings, emotions). These elements we bring provide the possibility to imprint those sensora onto the site (manifestations) or enmesh ourselves into the site, and Gaia, in order to learn, know, and improve. In some cases Kal and I have 'worked' the energies to facilitate a more free-flowing of energies across the site. This felt purposeful.
4. "We exist in 3D, but are part of 4D, the sites reflect the geometry, and it is all to fibonacci sequence."
Indeed. Sacred geometry and metrology. I find it interesting that the so-called Imperial measurement system was so accurate in its relation to the size of the earth, radius of the earth and moon, et al. There is a knowledge therein that we have discarded, and recently trounced with the introduction of the Metric system, a purely "scientific" yard-stick (oh, what an ironic term!). John Michell makes this point well, and I also recommend "The Golden Thread of Time" by Crichton E.M.Miller.
I'm not one for measurements usually, but when I have used my laser measure at sites they always translate to Alexander Thom's "megalithic yard" in an way that re-enforces his theory.
There is a global understanding of number and measure evidenced throughout sacred sites that is both insistent and consistent. These early cultures were all getting their information from the same source, whether that be observation of the heavens or from intuitive knowledge sources in another dimension – your fourth dimension. Rarely visited these days, except by archaic revivalists.
5. "The duality is opposite spin , and they form DNA spirals and twine together as lovers"
Poetically put. This is what we find. We have recently uncovered the double helix pattern at stone circles (they may exist at other sites too – we have simply concentrated on circles). My current theory is that this is formed of two opposing yet inter-twining streams of male (sun powered) and female (moon powered) energy flows that move in a corkscrew motion around each other, alternately attracting and repelling each other like two opposed magnets. This is in line with Ed Lederskin's theory of the way that magnetic energy flows. Was he an unrecognised visionary, or a deluded crackpot? I make no judgments. I merely test theories that may add grist to the ever-churning ideas mill.
"As lovers" sums it up nicely, There is a love energy that is bound up with this energy flow. When we have tried to 'connect' with circle energies we have been instructed that the emotions of love and gratitude are the correct temperaments to display, as this produces effects. It seems to be the lingua franca, the exchange mechanism that is used by the human to bring into being the interface with the site.
6. "The typical barrow would have been covered in alternate layers of organic and inorganic materials ala wilhelm reichs orgone accumulators…"
I have been studying Wilhelm Reich for some time. His experiments have been fascinating, and again he is employing a erotic energy (Eros) to facilitate healing, and balancing of the body and mind's systems. I fancy our stone circle energies map onto Reich's "orgone" concept rather closely. I just think he never knew that there were different types in patterns that had already been worked with by ancient peoples to similar ends. For all his incredible inventions it's a shame he never thought of trying the old existing tools – the L-rods and hazel twigs!
Bryn Celli Ddu in Anglesey is a particularly fascinating example of this orgone accumulator concept. I'm sure you will have visited this place. My quest is to work out how to interact with the energies such that the function of these sites can be utilised once again. Some people probably are already doing this, having worked it out. It's my aim to join those ranks. It's a kind of shamanic self-teaching program.It has to be done first-hand, though. You can't read about this stuff and believe it. You have to do it.
7. "the henges, and I include all so called hill forts are to seperate and re-distribute the two flows, the stone circles are later additions in this manipulation."
Interesting. Later additions? Added because of new knowledge, or for a developing priestly class to gather together greater numbers of people to effect deeper changes that could be disseminated more widely – perhaps in response to a more dire need at some time in the past?
The henges and hillforts separate and re-distribute the flows, you say. I have found evidence of some stone circles having wide flows of energy coming out of the sites and travelling along male and female lines to rejoin at gulleys, cliffs, rivers and valleys to be carried down to the lands below them. I suspect that the neutral paths that connect stone to stone, or site to site, carry structural energies (rather than healing or growth energies) to maintain connections to other energy centres across the larger scale.
I have also found that the male and female streams come apart at the edge of the stone circle to flow around it and then connect to one of the site's female stones (which I call The Transformer or Queen Stone). They re-combine, however, at an outlying King Stone (some of them don't appear very majestic, but they are energetically speaking).
(I detest the name "hillfort" though – they were simply 'protected areas'. I don't believe the 'fortifications' were entirely defensive at first – that came later with the rise of the dominator cultures. I believe that circular mounds and ridges were constructed on peaks to marshall energies, as were stone circles.
Anyway – thank you for beginning the discussion on this. I hope this starts a landslide of additional input!
Gwas."
******************************************************************

The Sun is the Key – The Moon is the Door
Recently I posted a blog about a trance vision I had where I received the riddling phrase: "The Sun is the Key, the Moon is the Door". If you have read this page before you may notice that I have completely re-written this particular section. Knowledge moves on apace, and the old information was out-moded. Here are my current thoughts concerning this riddle.
Earth energies can be categorised as being of three particular varieties: Male, Female, and Neutral. Male energy is traditionally associated with such elements as:-
sun
activity and dynamism
penetration
motivation
protrusion
sharpness, pointedness and phallic imagery
By contrast Female energy has the following traditional associations:-
moon
latency and dormancy
receptivity
being a well of creativity
hollows, holes and cracks
roundedness, bluntness and vaginal imagery
Neutral energy, I feel, forms the lattice-work or framework for the masculine and feminine forces to interplay upon or within. It is the playground for the boys and girls to play in, if you like.
In the light of this, the phrase "The Sun is the Key, The Moon is the Door" embodies those masculine concepts: it is the pointed object – the key – that provides the motivation when utilised and directed to operate upon the receptacle of the door, and thereby opens a previously locked entrance to somewhere else that was previously inaccessible.
I see now how multi-layered this statement is, and yet how well it fits the traditional concepts and associations that it is laden with. Now I understand this much: to pass beyond the current place into an unknown other space the Key must be actively employed to unlock the barrier or screen to reveal another space beyond. I must work within existing conceptualisations, along traditional paths, but emerging into a new mental realm that is my own personal realm of imagination and possibility.
And so this is what I do now. And other realms have indeed been glimpsed behind the door. The key works!
Gwas.
*************************************************
What does it take to become a 'believer'? How can you really believe in a concept like divination? I want to state my thoughts on beilef, and on divination as a trustworthy source of knowledge, so bear with me whilst I expand the topic into an area that I know something about, and which led me directly over the thin line between atheism and animism.
Let's look at this excerpt from Krishnamurti's Journal which forms the opening statement of Hamish Miller's book "It's Not Too Late". Hamish, of course, is a well-known dowser, but here's what he starts his book with:-
"In the silence of the deep night and in the quiet still morning when the sun is touching the hills, there is a great mystery. It is there in all living things. If you sit quietly under a tree you will feel the ancient earth with its incomprehensible mystery…to be in communion with that, the mind, the whole of you, must be at the same level, at the same time, with the same intensity as that which is called mysterious. This is love. With this the whole mystery of the universe is open."
I apologise to the author for cutting much of it out to quote it, but what is being described here is a druidic mindset. What I find fascinating is that a divintory tool such as dowsing using rods, pendulum or any other means including tarot and I-Ching hexagrams, is a means of connecting to a higher order of intelligence, a different intelligence. Ineffable.
So, we can , as many do, try to figure out whether we should engage belief in the idea of getting in touch with this emotive energy, this other intelligence. Many quickly decide that this is already scripted for them, and they head off down the path of religion. Others are more self-aware, and they interpret this connection as magick; something that they can tune in to, make use of as they wish, and empower themselves. Most log the incidents with only the most momentary of investigation into why such a mysterious phenomenon exists, but they are slaves to ideology and their minds gets overridden by cultural conditioning.
Those of us who, at some point in their lives, come to realise that another path exists – the path where we feel true to ourselves, and respectful of this higher intelligence – we seek its knowledge and companionship with a mindset of curiosity mixed with wonder. That mix, I feel, makes you HAVE to answer (to yourself) this one question:
Q. Are you prepared to truly try to expand your consciousness to encompass the possibility that time, space, and all other mental relationships with Nature and the wider Universe have been, up until now, a limited concept that has kept you from achieving your true potential?
Very long-winded, I know, but it has to be that precise in order to prevent yourself from backing out of giving an answer by questioning the question! When you answer "Yes" to this, and you feel that in your heart it was a true answer, THEN YOU BELIEVE. This is the point to avoid hyperbole! Just because you are prepared to make that step, it dooesn't mean it's over. It begins. What changes is that you now have something to ask the questions to – and you have to go out and establish that relationship yourself. No-one else can do it for you. Sure, others can point the way, but you have to tread the road.
With empowerment comes responsibility. You have moved beyond the infantilsation of yourself, the keeping yourself in a repressed, retarded state because you once enjoyed its shape, like a well-worn leather jacket. Now you have to open up and out.
How does this relate to divination, I hear you say? Once you open yourself up and outwards to encompass more possibility, more complexity, more novelty, more coincidence, more wonder and more opportunity, then the worlds you can touch have different qualities. In some states of mind time can be slowed, stopped, reversed, points in it can be accessed like an Alexandrian Library. Knowledge of things past, present and future are available to be enquired about, although at the time you rarely have any sense of whether the information relates to any specific state of time. Instead the information is timeless, classic, cryptic, poetic, full of potential. How this is brought back and re-dimensioned into our casual reality space is something of the 'art' that many people aspire to know better.
Some see the craft as the important element – how good are you at learning the symbolic significance of a tower? How well can you interpret the archetypes that man has remembered from history? I have no doubt that signs are important. In five-sense reality we sometimes note them, but often no more. In divination we actively encourage them as though to tease out a thread of data that can then be re-woven with the weft of reason and the warp of significance. Only those who believe, and who actively pursue the curiosity sufficiently to discover a connection can walk with certainty down the true path of their life's purpose, and believe that they can fulfill it in their lifetime.
On my path I have discarded certain areas of study, and that has been done using two decisions. The first decision is, does this path "have a heart" (as Don Juan would say). Does it feel right, and right now? The other decision I make is, is the information, as it fits into my current framework of knowing, as Wittgenstein says "true enough" to believe? And with that statement I search my store of knowledge to retrieve answers. If it sounds plauible and useful, then I will prepare myself to believe it. I am not concerned whether 'enough people' believe it too. I don't care whether it has been stated before, and possibly dismissed by others, even more intelligent people.
Ultimately, I feel that this methodology I have adopted is as close to the druidic methods as I can go with. I achieve results, I am fulfilled, I harm no-one, I explore inner and outer space, I create good vibes, and I laugh and learn a lot along the way. I see the future, the past, and the present through divinatory techniques. I try new ones, or ones I've just learned. I try old ones that have failed before. I make stuff up. But when I do it has to feel right. It must have been a decision that came from deep inside me, and deep outside me too.
Holy cowpats, where did all that lot come from? Thank you for sticking with me. I'm not sure what that contributed, really. One last point then. Hamish Miller manifests energy patterns at sacred sites. I watched him dowse one. Since I learned of this possibility, I have tried it myself. I believed I could do it. The first time I tried it I did it. I was struck with wonder. All time froze in that instant when the pattern emerged. I followed it around and around feeling amazing. It was what non-pagans might call "a religious experience". It was also real. Other patterns have subsequently emerged. I am not drawing those patterns. I am merely plotting their course, and touching Nature to co-operate in their production. Call – response. Offering and receiving.
This is the intelligent response of true existence. The process by which it is attained is attunement. Your method of attunement is irrelevant.
Gwas. Follow your true path.
************************************************